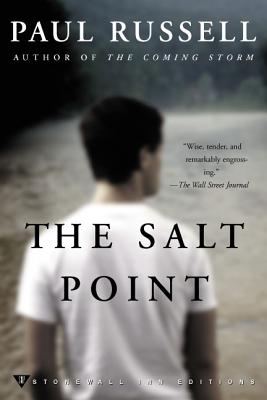 The Salt Point (Paperback)
A Novel
Stonewall Inn Editions, 9780312267698, 224pp.
Publication Date: September 9, 2000
* Individual store prices may vary.
Description
From the award-winning author of The Coming Storm comes the brilliantly conceived and precisely rendered novel The Salt Point, which explores the lives of four people-Anatole, Leigh, Chris, and Lydia-and their intermingled and unwinding desires. Set in a Poughkeepsie mall, the Main Street to a new generation, the novel follows these characters as they achieve their oddly triumphant lives redolent with loss and hope, humor and sadness, union and alienation. As promises are diminished and futures are abandoned, all four are hurtled toward that place in which everything is transmuted-the salt point.
About the Author
Paul Russell is the author of such novels as The Coming Storm and Sea of Tranquility - as well as The Gay 100, a work of non-fiction. His most recent novel was a finalist for the Lambda Literary Award as well as the winner of the Ferro-Grumley Award. He is a professor at Vassar College and lives in upstate New York.
Praise For The Salt Point: A Novel…
"Mr. Russell has created a wise, tender, and remarkably engrossing story about human affections--their power and illogic, their preciousness and unpredictability--and about how those affections flare and fare at the 'salt point.'" —Bruce Bawer, The Wall Street Journal
"The Salt Point finds the sacred and poetic even in the slag heap of small-town America." —Edmund White
"Like one of the nastier Henry James novels, The Salt Point shows how very possible it is for all of its characters to do unspeakable harm to each other, without allowing themselves to know what they are doing." —Madison Smartt Bell, The Village Voice
"Russell moves his characters into various striking arrangements with one another as deftly as a chess master and writes about their longings with cool, evocative precision." —The Washington Post Book World