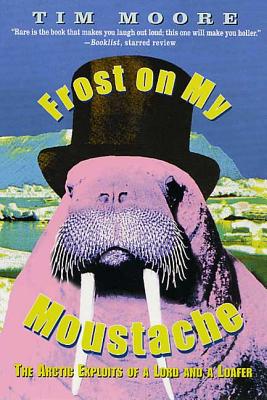 Frost on my Moustache (Paperback)
The Arctic Exploits of a Lord and a Loafer
St. Martin's Griffin, 9780312270155, 288pp.
Publication Date: February 9, 2001
* Individual store prices may vary.
Description
Guided by the fastidious journals of an eminent Victorian adventurer by the name of Lord Dufferin, Time Moore sets off to prove his mettle in the most stunningly inhospitable place on Earth-the Arctic. Armed only with his searing wit, wicked humor, and seasickness pills, our pale suburbanite-wracked by second thoughts of tactical retreat-confronts mind-numbing cold, blood-thirsty polar bears, a convoy of born-again Vikings, and, perhaps most chilling of all, herring porridge. When he is not humiliating himself through displays of ignorance and incompetence, Moore casts a sharp eye on the local flora and fauna, immersing readers in the splendors and wonders of this treacherously beautiful region.
A deliciously and inexhaustibly funny book, Frost on My Moustache deserves to be placed alongside those by Evelyn Waugh, Eric Newby, and Bill Bryson.
About the Author
Tim Moore is the author of French Revolutions, The Grand Tour, and Frost on My Moustache. His writing has appeared in the The Sunday Times, The Independent, The Observer, and The Evening Standard. He lives in London.
Praise For Frost on my Moustache: The Arctic Exploits of a Lord and a Loafer…
"A very funny book that is also first-class travel writing." —Nina King, The Washington Post Book World
"Descriptions of humiliation and hardship are what make any piece of travel writing really sing...And no one suffers more that the curmudgeonly, out-of-shape-and-proud-of-it British journalist Tim Moore." —The New York Times Book Review
"Equal parts Bill Bryson and Evelyn Waugh." —Christian Science Monitor
"It takes talent to 'whinge' this entertainingly about the miseries of travel. Moore has what it takes." —The Seattle Times