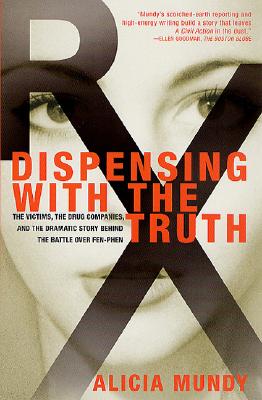 Dispensing with the Truth (Paperback)
The Victims, the Drug Companies, and the Dramatic Story Behind the Battle over Fen-Phen
St. Martin's Griffin, 9780312270711, 416pp.
Publication Date: August 1, 2002
Other Editions of This Title:
Hardcover (1/1/2001)
* Individual store prices may vary.
Description
In 1996, a terrible epidemic began. Thousands of young women were stricken and many of them died. Some died quickly, within a few months; others lasted a couple of years. Many of those who didn't die suffered damage to their hearts and lungs, much of it permanent. Doctors suspected what the killer was. So did the Food and Drug Administration. The culprit was one-half of the most popular diet drug combination on the market, Fen-Phen. It was produced and sold by a powerful pharmaceutical company, Wyeth-Ayerst, a division of American Home Products.
"Dispensing with the Truth" is the gripping story of what the drug company really knew about its drugs, the ways it kept this information from the public, doctors, and the FDA and the massive legal battles that ensued as victims and their attorneys searched for the truth behind the debacle.
It tells the story of a healthy young woman, Mary Linnen, who took the drugs for only 23 days to lose weight before her wedding-and then died in the arms of her fiance a few months later. Hers was the first wrongful death suit filed and would become the most important single suit the company would face.
Award-winning investigative reporter Alicia Mundy provides a shocking and thoroughly riveting narrative account of the whole debacle. It is a stark look at the consequences of greed-and a cautionary tale for the future.

About the Author
Alicia Mundy is the senior editor and Washington bureau chief for "Cableworld" magazine. Her stories have appeared in "U.S. News & World Report, GQ, Philadelphia "magazine, "The Wall Street Journal, ""The Washington Post, Mediaweek, " and "The Washingtonian." Mundy is the winner of several journalism awards for commentary and investigative reporting. She lives in Alexandria, Virginia.
Praise For Dispensing with the Truth: The Victims, the Drug Companies, and the Dramatic Story Behind the Battle over Fen-Phen…
"In the tradition of A Civil Action and In Cold Blood, this important and timely book reads like a riveting murder mystery . . . Alicia Mundy's book shines an overdue and informing spotlight on the immense, and not always well-used, power of national pharmaceutical corporations . . . over FDA regulators, over elected officials, and over the consuming public. Readers will leave Dispensing with the Truth's final pages armed with new insights—and heightened concerns—regarding the safety of the pharmaceuticals they consume. This is a significant and utterly engaging work of legal journalism at its best. It is also reminds us that lawyers can sometimes be heroes. And it makes me personally proud that some of the heroes in these pages are former students of mine."—Alan M. Dershowitz, Felix Frankfurter Professor of Law at Harvard Law School

"[A] sad, infuriating and important tale . . . [Mundy's] mastery of the massive scandal's legal, political and regulatory issues is impressive, her documentation comprehensive. [S]he has produced an exemplary piece of reportage on an appalling and utterly needless catastrophe."—The Washington Post


"A great investigative reporter tells the story of how corporate greed and government incompetence combined to let a killer loose—and what happened when the truth closed in."—Sam Donaldson, Chief White House Correspondent for ABC News and co-anchor of This Week with Sam Donaldson and Cokie Roberts

"Absorbing . . . a read that will have you gritting your teeth."—Time

"The subject of this fascinating book is the first wrongful death suit brought against a diet drug, Fen-Phen, an event that Mundy sets in the context of drug companies' greed, publicity spinning, and power over the Food and Drug Administration. Mundy comprehensively and often grippingly details the plaintiffs' attorneys' search for facts, which ultimately accumulated millions of documents; their many depositions; their work on determining trial procedures; their practicing before mock courts that included 'jurors' selected to give feedback; and then the trial itself. "—William Beatty, Booklist

"[Mundy] admirably recounts the fen-phen fiasco of the late 1990s . . . [She] has crafted a compelling morality tale out of this huge medical and regulatory disaster."—Elle

"Dispensing with the Truth has Hollywood movie written all over it . . . Think Erin Brockovich or A Civil Action—a courtroom drama pitting presumably powerless human beings against greedy corporations."—Salon.com

"[A] medical thriller that profiles unsuspecting victims while indicting the Food and Drug Administration and pharmaceutical giant Wyeth-Ayerst Laboratories."—New York Daily News

"As Capitol Hill thrashes out the limits of a patient's right to sue health care providers, all involved should make Mundy's [book] a frequently consulted reference . . . [The book] chronicles, with passion and precision, the sequence of events that led to the Fen-Phen weight-loss drug disaster that left thousands of women dead or crippled by heart disease."—The National Journal

"Mundy's scorched-earth reporting and high-energy writing build a story that leave A Civil Action in the dust."—Ellen Goodman, The Boston Globe

"Mundy's book reads like a medical thriller . . . A readable and moving narrative."—Publishers Weekly (starred review)

"Investigative reporting at its best . . . will keep readers on the edge of their seats."—Arizona Daily Star

"This true-to-life courtroom drama reads like an edge-of-the-seat novel. It tops A Civil Action."—Barry Reed, bestselling author of The Verdict and The Deception

"Dispensing with the Truth has a huge, gratifying asset: it is so readable a story, told with such zest and saucy verve, that once you start reading, you'll be hard-pressed to stop. Remember, I warned you!"—Jack Valenti, chairman and CEO of the Motion Picture Association
or
Not Currently Available for Direct Purchase