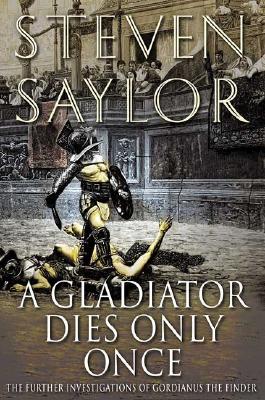 A Gladiator Dies Only Once: The Further Investigations of Gordianus the Finder (Hardcover)
The Further Investigations of Gordianus the Finder
Minotaur Books, 9780312271206, 288pp.
Publication Date: May 12, 2005
* Individual store prices may vary.
or
Not Currently Available for Direct Purchase
Description
Steven Saylor's Roma Sub Rosa series of novels, set in the late Roman Republic and featuring Gordianus the Finder, has garnered unusual acclaim from readers and reviewers alike, establishing him as one of the pre-eminent historical crime writers. In A Gladiator Dies Only Once, the second collection of his award-winning stories featuring Gordianus, Saylor more than meets his own high standards. Set during period between the events of his novels Roman Blood and Catalina's Riddle, these previously untold adventures range from twisted search for truth behind a threatening blind item in the Acta Diurna ("The Consul's Wife") and a kidnapping and murder during the revolt of Sertorius ("The White Fawn") to the story behind Cicero's discovery of Archimedes's tomb ("Archimedes Tomb") and a perplexing domestic situation in Gordianus's own home ("If a Cyclops Could Vanish in a Glimpse of an Eye.")

These tales from the early career of Gordianus - when his adopted son Eco was still a mute boy and his wife Bethesda was but his slave - will delight Saylor's many fans while illuminating the details of the ancient world like no other writer can.
About the Author
Steven Saylor is the author of numerous books featuring Gordianus the Finder, most recently the novel "The Judgment of Caesar." He is currently at work on a new historical novel, "Roma," and divides his time between Berkeley, California and Austin, Texas.
Praise For A Gladiator Dies Only Once: The Further Investigations of Gordianus the Finder…
"Saylor evokes the ancient world more convincingly than any other writer of his generation." - The Sunday Times (London) on The Judgment of Caesar "[T]he twisty fair-play plotting that marks Saylor's best novels is very much in evidence...A partial chronology and historical notes round out this excellent volume." --Publishers Weekly "The stories are admirably varied--some are extensive mysteries; others offer short, sharp slices of life. All are marvelous reads in themselves and marvelous reflections of ancient Rome." --Booklist (starred review)



"[T]he twisty fair-play plotting that marks Saylor's best novels is very much in evidence...A partial chronology and historical notes round out this excellent volume." --Publishers Weekly



"The stories are admirably varied--some are extensive mysteries; others offer short, sharp slices of life. All are marvelous reads in themselves and marvelous reflections of ancient Rome." --Booklist (starred review)
Advertisement