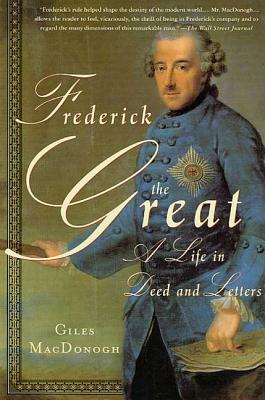 Frederick the Great
A Life in Deed and Letters
Paperback

* Individual store prices may vary.
Description
Piet and soldier, misanthrope and philospher, Frederick the Great was a contradictory, almost unfathomable man. His conquests made him one of the most formindable and feared leaders of his era. But as a patron of artists and intellectuals, Frederick re-created Berlin as one of the continent's great cities, matching his state's reputation for military ferocity with one for cultural achievement.
Though history remembers Frederick as a "Potsdam Fuhrer," his father more rightly deserved the title. When, as a youth, Frederick attempted to flee the elder man's brutality, the punishment was to watch the execution of his friend and co-conspirator, Katte. Though a subsequent compromise allowed Frederick to take the throne in 1740, he would remain true unto himself. His tastes for music, poetry, and architecture would match the significance of his military triumphs in the Seven Years' War.
Drawing on the most recent scholarship, Giles MacDonogh's fresh, authoritative biograhy gives us the most fully rounded portrait yet of an often misunderstood king.
Praise For Frederick the Great: A Life in Deed and Letters…
"In [MachDonogh's] wide-ranging and often compelling portrait, all of the varied facts of this complex man are examined. While his scholarly research is excellent, MacDonogh employs his journalistic training to eloquaently convey the conflicts and immense personal dynamism that lay behind his subject's ambitions and accomplishments. Both general readers and those with a strong background in European history will find great value in this outstanding biography." —Booklist
"Sensitive, meticulous, and just, and well worth reading for the portrait it provides of this intelligent and spirited monarch." —Times Literary Supplement
"Frederick the Great presents a wonderful subject for a biographer, and Giles MacDonogh certainly seizes his opportunity with both hands...writing with a verve and wit worthy of his subject." —Financial Times
"Immaculately researched and beautifully written... In an extended and lavish account, MacDonogh brings us close to the smell of eighteenth-century battle." —Evening Standard
St. Martin's Griffin, 9780312272661, 448pp.
Publication Date: February 24, 2001
About the Author
Giles MacDonogh was born in London in 1955 and studied history at Oxford University. He has worked extensively in France as a teacher, a translator, a journalist, and an editor. After returning to England, he became increasingly well known as a gastronomic critic and authority on wine and spirits. For the last ten years, however, his consuming interest has been modern German history, and he has published several books on the subject, including The Last Kaiser. He has a regular column in the Financial Times and has written for many other papers and magazines. MacDonogh lives in London.