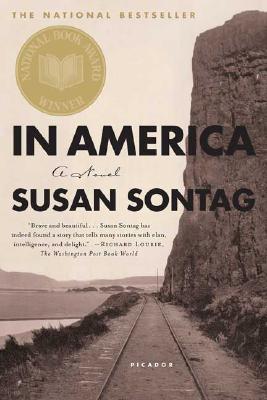 In America
A Novel
Paperback

* Individual store prices may vary.
Other Editions of This Title:
Paperback (6/1/2009)
Description
In America is a kaleidoscopic portrait of America on the cusp of modernity. As she did in her enormously popular novel The Volcano Lover, Susan Sontag casts a story located in the past in a fresh, provocative light to create a fictional world full of contemporary resonance.

In 1876 a group of Poles led by Maryna Zalezowska, Poland's greatest actress, emigrate to the United States and travel to California to found a "utopian commune." When the commune fails, Maryna stays, learns English, and—as Marina Zalenska—forges a new, even more triumphant career on the American stage, becoming a diva on par with Sara Bernhardt.

In America is about many things: a woman's search for self-transformation; the fate of idealism; a life in the theater; the many varieties of love; and, not least of all, stories and storytelling itself. Operatic in the scope and intensity of the emotions it depicts, richly detailed and visionary in its account of America, and peopled with unforgettable characters.

In America is the winner of the 2000 National Book Award for Fiction.
Praise For In America: A Novel…
"Often brave and beautiful . . . The scope of the take is vast, and there is a largesse in the telling, the sheer happiness of art. But In America is also an intimate portrait of a willful woman who, like the liner which brings her to America, trails a great wake behind her . . . In this novel about Poland and America, acting and living, transformation and respiration, Susan Sontag has indeed found a story that tells many stories with elan, intelligence and delight." —Richard Lourie, Washington Post Book World

"Sure-footed and wonderfully daring." —Sarah Kerr, New York Times Book Review

"An inventive work, written in fluid prose . . . Beautiful and unsettling." —Lisa Michaels, The Wall Street Journal

"A fascinating exploration of what's real in a culture that preaches authenticity but worships artificiality." —Christian Science Monitor

"Enough incident, psychology, local color, and fascinating detail to stock a flotilla of popular novels, a couple of Ragtimes, and a brace of theatrical memoirs." —Michael Silverblatt, Los Angeles Times Book Review

"What is wonderful about this book is . . . [the] counterpoint of novelist and essayist, of innocence and knowingness. From the knowingness comes another excellence of In America, its cat's cradle of meanings." —Joan Acocella, The New Yorker

"In America displays Sontag in a relaxed, pleasure-seeking mode, guiding her character through a long travelogue in time, specifically the beginnings of the gilded age in the brave new world. Here are sumptuous theaters in Manhattan and hotels in San Francisco; a journey 1,900 feet down into a silver mine in Virginia City, Nevada; cameo appearances by such luminaries as Henry James and the Shakespearean actor Edwin Booth." —Paul Gray, Time

"Like its brilliant essayist author, this 'novel' defies every convention of storytelling . . . Most original and innovative." —Philadelphia Inquirer

"An exhilarating journey into the past, freighted with dazzling detail, the product of an endlessly inquisitive, historical imagination." —The Economist

"Sontag weaves an expansive broad narrative cloth here, keeping us under her spell until the very last word." —Chicago Tribune

"A powerful story of a woman transcending herself . . . Mesmerizing." —Palo Alto Daily News

"[In America] showcases Sontag's gift for cultural commentary and her eye for sumptuous detail." —Denver Rocky Mountain News

"Susan Sontag is a powerful thinker, and a better writer, sentence for sentence, than anyone who now wears the tag 'intellectual.'" —New York Observer

"Sontag crafts a novel of ideas in which real figures from the past enact their lives against an assiduously researched, almost cinematically vivid background." —Publishers Weekly (starred review)

"Alternately hilarious and tragic." —Vanity Fair

"Sontag uses dense, elegant language, inventive dialogue, impassioned monologue, and diary entries to lure the reader more deeply into the fascinating historical journey of a powerful actress . . . Sontag triumphs once again with her gift for turning history into riveting fiction." —Library Journal
Picador, 9780312273200, 398pp.
Publication Date: May 4, 2001
About the Author
Susan Sontag was the author of four novels, including The Benefactor, Death Kit, The Volcano Lover, and In America, which won the 2000 National Book Award for fiction; a collection of stories, I, etcetera; several plays, including Alice in Bed; and nine works of essays, among then On Photography, which won the National Books Critics Circle Award for criticism. In 2001, Sontag was awarded the Jerusalem Prize for the body of her work. She died in New York City in 2004.