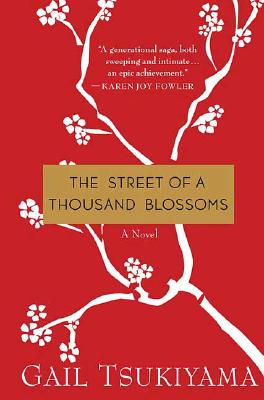 The Street of a Thousand Blossoms
Hardcover

* Individual store prices may vary.
Other Editions of This Title:
Digital Audiobook (9/3/2007)
Paperback (8/5/2008)
Hardcover, Large Print, Large Print (3/1/2008)
Compact Disc (9/4/2007)
Paperback (5/24/2011)
Description
""Just remember," Yoshio said quietly to his grandsons. "Every day of your lives, you must always be sure what you're fighting for.""
It is Tokyo in 1939. On the Street of a Thousand Blossoms, two orphaned brothers are growing up with their loving grandparents, who inspire them to dream of a future firmly rooted in tradition. The older boy, Hiroshi, shows unusual skill at the national obsession of sumo wrestling, while Kenji is fascinated by the art of creating hard-carved masks for actors in the Noh theater.
Across town, a renowned sumo master, Sho Tanaka, lives with his wife and their two young daughters: the delicate, daydreaming Aki and her independent sister, Haru. Life seems full of promise as Kenji begins an informal apprenticeship with the most famous mask-maker in Japan and Hiroshi receives a coveted invitation to train with Tanaka. But then Pearl Harbor changes everything. As the ripples of war spread to both families' quiet neighborhoods, all of the generations must put their dreams on hold---and then find their way in a new Japan.
In an exquisitely moving story that spans almost thirty years, Gail Tsukiyama draws us irresistibly into the world of the brothers and the women who love them. It is a world of tradition and change, of heartbreaking loss and surprising hope, and of the impact of events beyond their control on ordinary, decent men and women. Above all, "The Street of a Thousand Blossoms" is a masterpiece about love and family from a glorious storyteller at the height of her powers.
Praise For The Street of a Thousand Blossoms…
"[Tsukiyama] writes with eloquence and feeling. Her prose is so finely wrought that you smell the rotting persimmons and the sawdust from wood being sanded in a mask shop. You are chilled by the mist rising in a Japanese mountain valley and even feel the heat and stench of the flames consuming parts of Tokyo during a World War II firebombing. This book is a feast for the senses…Tsukiyama has the soul of a storyteller."—Denver Post "A fascinating, intricate portrait of Japanese customs and rituals that floods the senses."—USA Today "Tsukiyama's writing is clear and spare, and the thoughts and actions of her characters are accessible, believable. She unmasks their intentions for us, making it all the more tragic when they misread one another."—Seattle Times "Tsukiyama is a mesmerizing storyteller . . . [her] historically detailed and plot-driven story of resilience, discipline, loyalty and right action is popular fiction at its most intelligent, appealing and rewarding."—Booklist "Tsukiyama has long been known for her emotional and detailed stories. This time, she has gone even deeper to explore what happens to ordinary people during frightening and tragic times."—Lisa See, author of Snow Flower and the Secret Fan and Peony in Love

"Gail Tsukiyama is a writer of astonishing grace, delicacy, and feeling. Her lyric precision serves not only to leave the reader breathless but to illuminate human suffering and redemption with clarity and power."—Michael Chabon, author of The Amazing Adventures of Kavalier & Clay

"Covering the years of the war and after, on the home front of Japan, Tsukiyama tells a powerful story of family, of loss, and of endurance with her usual insight, her perfect imagery, and her unforgettable characters . . . I loved every word."—Karen Joy Fowler, author of The Jane Austen Book Club

"Gail Tsukiyama takes us into the world of sumo, allowing us to experience what exists beyond the rituals and the wrestling: the fascinating culture of contact and the intimacies of family love and devotion. This is an impressive achievement."
—Elizabeth George, author of What Came Before He Shot Her and Write Away: One Novelist's Approach to Fiction and the Writing Life

"A master storyteller . . . Gail Tsukiyama expertly and beautifully weaves together the lives of a sumo wrestler and his family, and a Noh mask-maker through World War II and into the 1960s."—Jane Hamilton, author of The Book of Ruth and A Map of the World "Tsukiyama's close attention to historical and geographical detail enriches the narrative . . . "—Publishers Weekly "Tsukiyama returns to the historical fiction genre and brings to life another sumptuously written work . . . As in her other novels, Tsukiyama proves to be adept at capturing sensory detail."—Library Journal
St. Martin's Press, 9780312274825, 432pp.
Publication Date: September 4, 2007
About the Author
Gail Tsukiyama is the bestselling author of five previous novels, including "Women of the Silk" and "The""Samurai's Garden, " as well as a recipient of the Academy of American Poets Award and the PEN Oakland/Josephine Miles Literary Award. She divides her time between El Cerrito and Napa Valley, California.
or
Not Currently Available for Direct Purchase