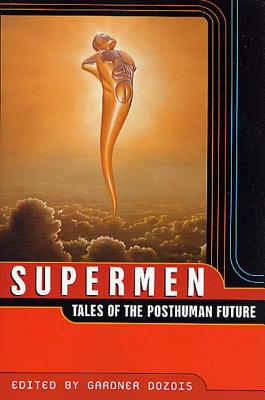 Supermen: Tales of the Posthuman Future (Paperback)
Tales of the Posthuman Future
St. Martins Press-3pl, 9780312275693, 400pp.
Publication Date: January 1, 2002
Description
Mind-expanding explorations of the future of the human form
Our bodies and minds are malleable, and only the imagination is the limit to the possible improvements. From genetics to artificial enhancements, humanity will alter the course of its own evolution. Included here are more than twenty stories from the most imaginative writers in the field, including:
Poul Anderson * James Blish * Eric Brown * Ted Chiang * Tony Daniel * Samuel R. Delany * Greg Egan * Joe Haldeman * Geoffrey A. Landis * Paul McAuley * Ian MacLeod * David Marusek * Tom Purdom * Robert Reed * Joanna Russ * Robert Silverberg * Brian Stableford * Bruce Sterling * Charles Stross * Michael Swanwick * Liz Williams * Gene Wolfe * Roger Zelazny.
About the Author
Gardner Dozois edits the Year's Best Science Fiction anthologies and Asimov's SF magazine from his home in Philadelphia, Pennsylvania. He has won the Hugo Award for Best Editor many times.
Praise For Supermen: Tales of the Posthuman Future…
"Entertaining and thought-provoking."--Kirkus Reviews
Advertisement