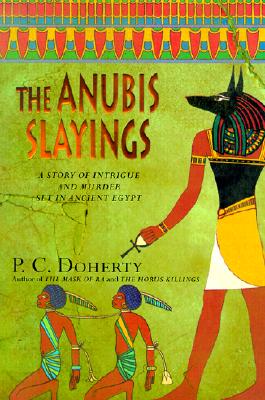 The Anubis Slayings
A Story of Intrigue and Murder Set in Ancient Egypt
Hardcover

* Individual store prices may vary.
Description
A series of grisly slayings ignite passions in Pharaoh's Egypt. Is it the work of humans or has the god Anubis himself come to earth intent on sabotaging peace negotiations with the dreaded Mitanni? Only Amerotke, wise and trusted judge of the powerful female Pharaoh, Hatusu, can sort through the tangle of intrigue that surrounds the killings and discover the truth. It began in the temple of Anubis. With the hated but humbled Mitanni camped outside Thebes, preparing to prostrate themselves before Pharaoh, few things could be worse for Egypt's bargaining position than a series of sensational murders right in the inner sanctum of its most heavily guarded temple. Except perhaps the daring theft of its most cherished national treasure. Or maybe the mysterious deaths of several Mitanni ambassadors who'd been assured Pharaoh's divine protection . . . Now Amerotke is up to his ears in intrigue. As the body count grows, it becomes apparent that someone-or something-wants his name added to it. But is the jackal-headed god, Anubis, really stalking his enemies? Or is there a logical explanation? It will take all of Amerotke's powers of reason to find the answer before Egypt's enemies move the strong and seductive Pharaoh into checkmate.
Minotaur Books, 9780312276584, 288pp.
Publication Date: June 1, 2001
About the Author
P.C. Doherty is the author of several acclaimed mystery series including The Sorrowful Mysteries of Brother Athelstan, the Hugh Corbett medieval mysteries, and the Canterbury Tales of mystery and murder. He lives in England.
or
Not Currently Available for Direct Purchase