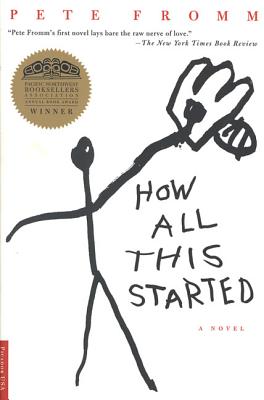 How All This Started (Paperback)
A Novel
Picador, 9780312276973, 324pp.
Publication Date: October 5, 2001
* Individual store prices may vary.
Description
The striking debut novel from award-winning writer Pete Fromm
Abilene and Austin, a sister and brother frustrated with the small-town Texas life their parents have chosen, turn to each other to escape the story they're all too tired of hearing: their father's unvarying account of "How All This Started"-how he met their mother then settled down in the middle of nowhere.
Pinning her dreams on her younger brother, Abilene becomes dead-set on making Austin a pitching star, a "fireballer" like Nolan Ryan. Swept up in her irresistible exuberance, they try, with baseball and firearms, to combat the stagnation of the Texas landscape--so fiercely it's uncertain whether either of them will survive Abilene's manic dreams.
Introducing one of the most memorable female characters in contemporary literature, How All This Started portrays with strength and subtlety the visceral bond between a brother and sister.
About the Author
PETE FROMM is a five time winner of the Pacific Northwest Booksellers Award for his novels If Not For This, As Cool as I Am, and How All This Started, his story collection Dry Rain, and the memoir Indian Creek Chronicles. The film of As Cool as I Am was released in 2013. He is also the author of several other story collections and has published over two hundred stories in magazines. He is on the faculty of Oregon's Pacific University's Low-Residency MFA Program and lives in Montana. His second memoir The Names of the Stars: A Life in the Wilds was named an Honor Book in the 2016 Montana Book Awards.
Praise For How All This Started: A Novel…
"[How All This Started] is really about the mystery and terrible beauty of families and about learning what you don't know." —USA Today
"Raw and immediate. Abilene drives what becomes a suspenseful, heartbreaking, and ultimately redemptive adventure in growing up." —Philadelphia Inquirer
"Pete Fromm's first novel lays bare the raw nerve of love." —The New York Times Book Review
"A wistful, moving first novel...a powerful and promising debut from a diligent writer" —Kirkus Reviews
"How All This Started offers a vivid perspective from the pitcher's mound, in this case, from the West Texas desert. A gutsy effort in the manner of McGuane and McMurtry, full of mesquite, cresote and one girl's violent encounters with herself." —Los Angeles Times