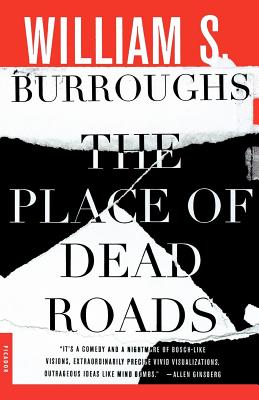 The Place of Dead Roads (Paperback)
St. Martins Press-3pl, 9780312278656, 336pp.
Publication Date: September 5, 2000
Description
A good old-fashion shoot-out in the American West of the frontier days serves as the springboard for this hyperkinetic adventure in which gunslingers, led by Kim Carson, fight for galactic freedom. The Place of Dead Roads is the second novel in the trilogy with Cities of the Red Night and The Western Lands.
About the Author
William S. Burroughs was born in St. Louis in 1914. He is best-known work is 1959's Naked Lunch--which became the focus of a landmark 1962 Supreme Court decision that helped eliminate literary censorship in the United States. Described by Norman Mailer as one of America's few writers genuinely "possessed by genius," he died in 1997. His many other works include Junky and Cities of the Red Night (Picador).
Praise For The Place of Dead Roads…
"It's a comedy . . . a nightmare . . . Bosch-like visions, extraordinarily precise vivid visualizations . . . outrageous ideas like mind bombs."—Allen Ginsberg

"Powerful . . . a raging torrent of words and images . . . Burroughs, like Dalí, first draws from his insanity, then selects with reason. And what a master of the mother tongue he is—sculpted sentences, poetic prose, riffs that make you gasp in amazement . . . More accessible and murkily poetic than ever."—Los Angeles Times Book Review

"One of the wildest rides into the Wild West, and other parts known and unknown, we will ever have."—The Washington Post Book World

"A moving personal saga as well as a record of revolutionary vision."—Chicago Tribune Book World
Advertisement