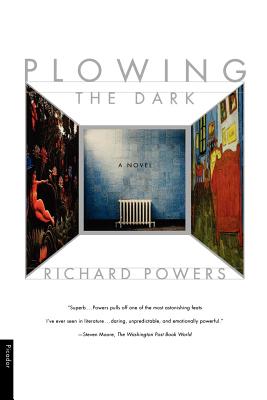 Plowing the Dark
A Novel
Paperback

* Individual store prices may vary.
Other Editions of This Title:
Digital Audiobook (6/20/2019)
Hardcover (6/1/2000)
Description
"Mention Richard Powers' name to other writers and see them get that faraway look in their eyes: They are calculating the eventual reach of his influence."—Sven Birkerts, Esquire

In a digital laboratory on the shores of Puget Sound, a band of virtual reality researchers race to complete the Cavern, an empty white room that can become a jungle, a painting, or a vast Byzantine cathedral. In a war-torn Mediterranean city, an American is held hostage, chained to a radiator in another empty white room. What can possibly join two such remote places? Only the shared imagination, a room that these people unwittingly build in common, where they are all about to meet, where the dual frames of this inventive novel to coalesce.

Adie Klarpol, a skilled but disillusioned artist, comes back to life, revived by the thrill of working with the Cavern's cutting-edge technology. Against the collapse of Cold War empires and the fall of the Berlin Wall, she retreats dangerously into the cyber-realities she has been hired to create. As her ex-husband lies dying and the outbreak of computerized war fills her with a sense of guilty complicity, Adie is thrown deeper into building a place of beauty and unknown power, were she might fend off the incursions of the real world gone wrong.

On the other side of the globe, Taimur Martin, an English teacher retreating from a failed love affair, is picked up off the streets in Beirut by Islamic fundamentalists and held in solitary captivity. Without distraction or hope of release, he must keep himself whole by the force of his memory alone. Each infinite, empty day moves him closer to insanity, and only the surprising arrival of sanctuary sustains him for the shattering conclusion. Plowing the Dark is fiction that explores the imagination's power to both destroy and save.
Praise For Plowing the Dark: A Novel…
"Superb...Powers pulls off one of the most astonishing feats I've ever seen in literature...daring, unpredictable, and emotionally powerful."—Steven Moore, The Washington Post Book World

"A fiercely visual book...the effect is spectacular...The most visceral prose Powers has ever written."—Daniel Zalewski, The New York Times Book Review

"America's most ambitious novelist...Plowing The Dark is virtual reality composed in a language that will never go obsolete. No one who becomes immersed in its poetry will walk out the way he or she came in."—Kevin Berger, The San Francisco Chronicle Book Review

"Plowing The Dark may be [Powers's] most finely executed story yet...Relentless and mesmerizing...a beautiful homage to the sine qua non of consciousness itself...the final triumph of art over pain."—Gail Caldwell, The Boston Globe

"Powers has an inventive, virtuosic writing style that reserves him a special category in today's fiction...I don't have the space to do justice to all the wonders of craftsmanship in Plowing The Dark...This is the first emblematic novel of the 21st century, a lesson and an inspiration."—Judy Doenges, The Seattle Times

"[A] tour de force. It has overwhelming inventiveness and fun moments as well."—Donald Newlove, The Philadelphia Inquirer

"This is, ultimately, a novel of ideas, but one with a soul...There is much to admire in this novel, particularly the ingenious way in which reality is captured."—Scott Leibs, The San Diego Union-Tribune

"Full of intelligence, exacting analysis and supple prose...[a] magisterial storybook."—Corey Mesler, The Commercial Appeal

"Powers' twin tales are rife with echoes and allusions that reinforce their shared concern with the ways in which we reinvent our worlds."—Ralph Rugoff, LA Weekly

"Superb...perhaps [Powers'] greatest novel...Nearly every page of Powers' astonishing book has stunning ideas that will force you to re-evaluate everything you thought you knew about these subjects, and the implications you never imagined."—Steven Moore, The Newark Star-Ledger

"Powers displays his trademark intellectual richness...His prose makes technology sing and music compute."—Michael Harris, The Los Angeles Times

Picador, 9780312280123, 400pp.
Publication Date: August 11, 2001
About the Author
Richard Powers is the author of several novels, including The Echo Maker (FSG, 2006), which won the National Book Award and was a finalist for the Pulitzer Prize. Powers has received a MacArthur Fellowship, a Lannan Literary Award, and the James Fenimore Cooper Prize for Historical Fiction. He lives in Illinois.