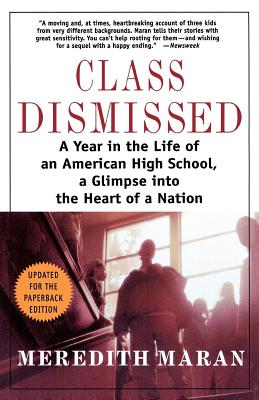 Class Dismissed
A Year in the Life of an American High School, A Glimpse into the Heart of a Nation
Paperback

* Individual store prices may vary.
Other Editions of This Title:
Hardcover (10/1/2000)
Description
Class Dismissed takes us inside California's Berkeley High, one of the most ethnically diverse high schools in the country. For one year, author and journalist Meredith Maran reported on the lives of three different but representative students from the Class of 2000: a troubled yet well-meaning young white man from an affluent family, a highly gifted and academically overachieving young woman from a biracial background, and a functionally illiterate African American young man who excels at football.
In telling their stories, and in fully depicting their turbulent year as seniors—a year that saw arson, corruption, professional ineptitude, and dismal teacher morale—this book offers a fascinating, up-to-the-minute account of the socio-economic and racial realities in our public schools.
Maran's eye-opening inquiry also shows how even a progressively multi-racial educational institution like Berkeley High can operate not as one school with a common objective but as several different schools under one roof, where students' opportunities and options are as limited as they are varied. Revealing as much about our society as it does about our teenagers, Class Dismissed is a must-read for everyone interested in the possibilities and truths behind American public education today.
Praise For Class Dismissed: A Year in the Life of an American High School, A Glimpse into the Heart of a Nation…
"A terrific book, a marvelous work of on-site exploration, richly textured with the voices and yearnings and heartaches of young people. It deserves the widest possible attention. A fascinating page-turner and an admirable work." —Jonathan Kozol, author of Amazing Grace
"A gripping account of life in one public high school . . . I plan to use it in a seminar I'm planning for students in the final semester of our Master's program . . . Students, educators, and parents can all learn a great deal from this book, if they are willing to struggle with the issues and questions it raises." —Ann Etchison, Adjunct Professor, Curry School of Education, University of Virginia
"Maran is an acute observer and we should listen to her advice." —Professor Gary Orfield, Harvard Graduate School of Education
"Maran gives first-year composition students so much to talk and write about. Her book is a natural as a text for my classes." —Katie Andraski, English Department, Northern Illinois University
"Class Dismissed is a moving and, at times, heartbreaking, account of three kids from very different backgrounds . . . Maran tells their stories with great sensitivity. You can't help rooting for them and wishing for a sequel with a happy ending." —Newsweek
"Maran the immersed reporter came away from Berkeley High with a enough exponential knowledge to earn a place in the national debate on education. Unlike politicians and corporate moneymen who have all the answers because they once spent 30 minutes reading to inner-city first-graders, Maran is not another dabbler. Her headwork is backed by legwork." —Colman McCarthy, The Washington Post
"Writer Meredith Maran spent a year in the lives of three seniors in the Class of 2000 at Berkeley (California) High School. Her efforts led to Class Dismissed: A Year in the Life of an American High School, a Glimpse Into the Heart of a Nation, an intriguing work of non-fiction. Because Maran focuses on Berkeley as 'the most integrated school in the country,' much of the book is devoted to race relations, in particular how students, even in such a tossed-salad, multicultural environment, tend to self-segregate. What is hopeful is how their teachers attempt to cajole students out of their comfort zones. A great deal of the book is devoted to the school's failures: A counselor's ineptitude shatters several students college hopes: arsons plague the school community. But much is made of its successes . . . The students' conversations, whether with their peers, parents or teachers, are revealing and realistic. It's obvious the teens let Maran enter their lives, not merely observe them . . . Students, teachers, parents, community leaders and citizens need to hear these voices." —USA Today
"Meredith Maran cracks open the door (of the American high school) and demands a political accounting for what she finds . . . Three remarkable students give a heartbeat to this well-reported tale." —The Boston Globe
"From parents to politicians, everyone wants to know how we can improve our schools. Maran looked for answers at Berkeley High School, CA, the nation's 'most integrated school.' She followed three students through what became a year of crisis resulting from a rash of arsons, criticism of the school's programs, and tension among the staff. The supporting cast of this riveting story includes teachers, students, parents, and community members, but the real star is the school itself--a 3200-student microcosm that embodies both the potential and the pitfalls of public education. Maran offers an educational improvement plan that begins with abolishing private schools, but the stories of Jordan, Autumn, and Keith show that individual attention is at least as important as institutional equality. At crucial times in each student's life, a teacher, friend, or someone in the community helped make the difference between success and failure. Everyone who cares about young people should read this revealing book. Highly recommended." —Susan M. Colowick, North Olympic Library System, Port Angeles, WA, Library Journal
"A look at California's Berkeley High School during the 1999-2000 school year with all its pressures, problems, and joys. The author focuses on three seniors--Autumn, Keith, and Jordan. Autumn is black, college-directed, but not sure where the money will come from. Keith, also black, has exceptional football skills, but is poorly motivated scholastically. Jordan, white and a typical golden boy, is almost certain of acceptance to a 'good' Eastern college. Month by month, readers see the differences in the lives of these three typical yet unique young people. It is easy to relate to Autumn's relationships and struggles. Keith's attitude results in the strong possibility that he won't graduate from high school, and he's in jail on prom night. Jordan's seemingly assured future becomes disjointed when an incompetent college advisor submits Jordan's ruinously low first-semester grades to prospective colleges. Disheartened by their rejections, he falls into a deep depression and, in effect, drops out of school. During the revelations of the trio's varied progress, the author gives sharp insight into the general climate of Berkeley High. She includes quotations from teachers, students, parents, and community figures. Fourteen pages of black-and-white photographs add vivid reality. This well-written, yearlong study of a typical high school offers insight on how present actions may affect future lives." —Frances Reiher, Fairfax County Public Library, School Library Journal
"A lively, dramatic, and provocative story of one writer's sojourn into one of our nation's most diverse public high schools. Maran (Notes From an Incomplete Revolution, 1997) spent one year tracing the lives of three seniors at Berkeley High School: a somewhat troubled white boy from a well-to-do family, a biracial superachiever, and a functionally illiterate African-American football star. What emerges is a fascinating account highlighting the inequalities that characterize our nation's public schools. Although Berkeley is considered a model of integration (with African-American, Latino, Asian, white, and interracial students), it actually houses several separate and unequal schools. The white students make up 30 percent of the school system, but they comprise more than 90 percent of all Advanced Placement classes. And while 85 percent of Berkeley High graduates go to college, only 14 percent of these college-bound seniors are African-American. (Many more African-Americans, in fact, eventually go to prison than to college.) Not surprisingly, these clearly delineated socioeconomic differences result in all kinds of tensions: in the course of Maran's year, the school was plagued by arson, corruption, ineptitude, and plummeting teacher morale. The author concludes her exposé with a number of suggestions to improve Berkeley and other public schools. While her suggestion to abolish private schools in order to improve the status of public ones is at once naïve and frightening, she also suggests creating smaller classes, a more demanding curriculum, increased parental involvement, and higher teacher salaries. A passionate and intelligent account." —Kirkus Reviews
"Having spent the 1998-1999 school year closely following three seniors at 'the most integrated school in the country,' Berkeley (Calif.) High, Maran delivers an altogether engrossing and often humbling account of the stark realities of public education in 'a country that has yet to deliver on its founding promise of equal opportunity.' While the year was overshadowed by the Columbine shootings, Maran reveals that 'Berzerkeley High' faces profound problems of its own. From an inept counselor who ruins students' chances of attending the colleges of their choice to an arsonist whose fires are increasingly dangerous, 'the enormity of the issues these teenagers are dealing with' makes their individual achievements sometimes astounding. Skillfully integrating multiple and quite disparate voices, Maran gives clear and chilling examples of how white and black children are treated differently by both school administrators and the police, bringing to light the 'dirty little secret' of racial inequality. Her nuanced rendering of the 'day-to-day do-si-do of teachers, students, parents, and community' in a school the local paper calls 'the petri dish of educational theorists across the country' should awaken readers to the realities behind political posturing about 'improving' public education. Maran's concluding recommendations for change are rooted in her well-documented understanding that 'Where our children are concerned, we get only as good as we give. As a nation we have been giving our young people far less than our best, with utterly predictable results.'" —Publishers Weekly (starred review)
St. Martin's Griffin, 9780312283094, 320pp.
Publication Date: September 10, 2001
About the Author
Meredith Maran's two sons recently attended Berkeley High, where she was a long-time volunteer. The school has provided her unlimited, exclusive access for Class Dismissed. Meredith Maran also works as a consultant to socially responsible businesses and writes for publications as diverse as Parenting, Utne Reader, New Age Journal, and New Woman. She lives in Oakland, California.