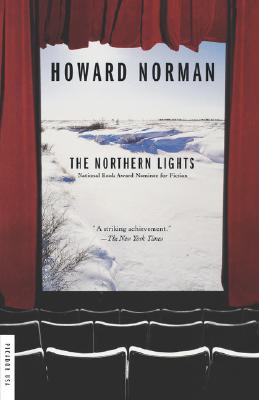 The Northern Lights (Paperback)
Picador, 9780312283377, 240pp.
Publication Date: October 1, 2001
* Individual store prices may vary.
or
Not Currently Available for Direct Purchase
Description
In the frozen wilderness of northern Manitoba, fourteen-year-old Noah Krainik lives with his mother and cousin. With his quirky, cheerful best friend, Pelly Bay, he explores this exotic, lonely land—the domain of Cree Indians, trappers, missionaries, and fugitives from the modern world. When tragedy strikes, Noah must go on alone, discovering a new life in the south and the bustling of Toronto. It is there in the Northern Lights movie theatre—with a Cree family taking up residence in the projection booth, and the reappearance of his elusive father—that Noah becomes an adult.
About the Author
Howard Norman is also a National Book Award finalist for "The Bird Artist." His other works include "The Museum Guard," "The Chauffeur," a collection of stories, and "The Haunting of L.," his most recent novel. He received a Lannan Award in fiction. He resides in Vermont and Washington D.C.
Praise For The Northern Lights…
"Barrry Lopez . . . The Nothern Lights is a starlingly fresh work, an innocent and humorous story about the fundamental strangeness of life."—Barry Lopez, author of Arctic Dreams

"The Northern Lights is an original, entertaining account of a boy's coming of age . . . vivid and memorable."—The Washington Post

"Howard Norman's prose sparkles like light on new snow and makes The Northern Lights a shimmering tale."—Boston Herald

"This entertaining first novel has depth and resonance . . . a striking achievement."—The New York Times

"A warm and full-hearted book . . . struck through with a sweet and compelling light."—Louise Erdrich

"This is Howard Norman's first novel . . . an entirely unforeseeable book and an entirely indispensable one."—Los Angeles Times

"Howard Norman has evoked the lonely reaches of northern Canada to tell of the Cree and French community there . . . An endearing little gem."—San Francisco Chronicle

"Funny, inconsolable, tender, risk-taking . . . a book like the first tracks on a field of new soil."—Ursula K. Le Guin

"This gentle, stylistically inventive novel is fresh as wintergreen . . . enchanting, replete with gentle whimsy and haunting evocative prose. It is a significant achievement."—Detroit News

"Does cultural imperialism know no limits? Here's an American author who presuimes to write about . . . our very own north country . . . and, what is worse, does a wonderful job of it . . . Unforgettable."—Toronto Sunday Star

"The Northern Lights is a fresh work that is rich in its characterization, crisp in its thought, deft in its use of place, and original in tis imagery . . . It succeeds brilliantly."—Worcester Evening Gazette

"Almost everything in this first novel is perfect . . . The Northern Lights has a sweet warmth that makes it a book to treasure."—People
Advertisement