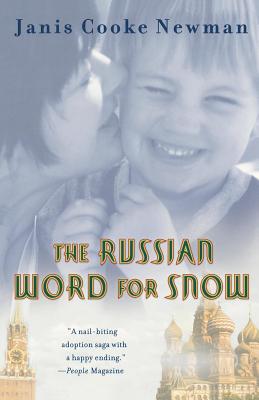 The Russian Word for Snow
A True Story of Adoption
Paperback

* Individual store prices may vary.
Description
Janis Cooke Newman first saw the baby who would become her son on a videotape. He was 10 months old and naked, lying on a metal changing table while a woman in a white lab coat and a babushka tried to make him smile for the camera.

Four months later, the Newmans traveled to Moscow to get their son. Russia was facing its first democratic election, and the front-runner was an anti-American Communist who they feared would block adoptions.

For nearly a month, the Newmans spent every day at the orphanage with the child they'd named Alex, waiting for his adoption to be approved. As Russia struggled with internal conflict, the metro line they used was bombed, and another night, the man who was to sign their papers was injured in a car-bombing.

Finally, when the Newmans had begun to consider kidnapping, their adoption coordinator, through the fog of a hangover, made the call: Alex was theirs.

Written with a keen sense of humor, The Russian Word for Snow is a clear-eyed look at the experience of making a family through adoption.
Praise For The Russian Word for Snow: A True Story of Adoption…
"A nail-biting adoption saga with a happy ending." —People Magazine

"The Russian Word for Snow is about the alchemy of desire, courage, grace; about the buried secrets of a foreign land; about a little boy in a Russian crib who tangles his fingers in his new mother's hair. Their story is compelling. It is poetry. It is true. It held me transfixed as I read." —Beth Kephart, author of the 1998 National Book Award finalist A Slant of Sun

"The couple's fight to bring Alex home after months of dashed hopes and bureaucratic snafus vividly illustrates the perils of foreign adoption." —People Magazine

"Newman's story, told with understated grace, reminds us that parenthood is an internal journey not measurable by blood or footsteps; that life with a child is a daily opportunity for mutual redemption in moments both unique and fleeting." —Kate Moses, Salon.com columnist and co-editor of Mothers Who Think

"On one level, this is one woman's story of going to Russia to adopt a little boy and experiencing the wrenching, exuberant passions of falling love with a child. On another level, it's every mother's story--our doubts and our fears about what kind of mother we will make. The writing is compelling, and straight from the heart." —Adair Lara, San Francisco Chronicle columnist and author of Hold Me Close, Let Me Go

"Beautifully written, intimately portrayed, it's an extraordinary tale of the power of a mother's love." —Karin Evans, author of The Lost Daughters of China
St. Martin's Griffin, 9780312283414, 240pp.
Publication Date: February 12, 2002
About the Author
Janis Cooke Newman, author of The Russian Word for Snow: A True Story of Adoption, is a frequent contributor to Salon.com and other magazines. Her stories have appeared in several anthologies, including Travelers' Tales. She lives in northern California with her husband and their son.