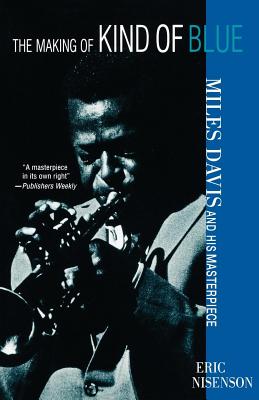 The Making of Kind of Blue (Paperback)
Miles Davis and His Masterpiece
St. Martin's Griffin, 9780312284084, 256pp.
Publication Date: October 5, 2001
* Individual store prices may vary.
Description
From the moment it was recorded, more than forty years ago, Miles Davis's Kind of Blue was hailed as a jazz classic. To this day, it remains the bestselling jazz album of all time, embraced by fans of all music genres. The album represented a true watershed moment in jazz history, and helped to usher in the first great jazz revolution since bebop.
The Making of Kind of Blue is an exhaustively researched examination of how this masterpiece was born. Recorded with pianist Bill Evans; tenor saxophonist John Coltrane; composer/theorist George Russell; and Miles himself, the album represented a fortuitous conflation of some of the real giants of the jazz world, at a time when they were at the top of their musical game. The end result was a recording that would forever change the face of American music
.
Through extensive interview and access to rare recordings, Eric Nisenson pieced together the whole story of this miraculous session, laying bare the genius of Miles Davis, other musicians, and the heart of jazz itself.
About the Author
Eric Nisenson is the author of Round About Midnight: Portrait of Miles Davis, Ascension: John Coltrane and His Quest, Blue: The Murder of Jazz, and Open Sky, a biography of Sonny Rollins. He lives in Massachusetts.
Praise For The Making of Kind of Blue: Miles Davis and His Masterpiece…
"Eric Nisenson turns Kind of Blue into a story that tells us much about what great jazz is and can be. It's worth reading just for the stories of how one of the greatest albums of all time came into being, but it offers so much more--a low-key but superb education in the way jazz is made and how it comes to mean the things it does." —Dave Marsh, Playboy pop critic and editor of Rock and Rap Confidential
"A masterpiece in its own right." —Publishers Weekly