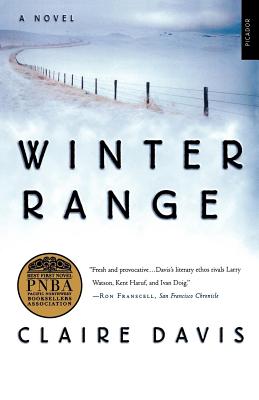 Winter Range (Paperback)
Picador USA, 9780312284251, 262pp.
Publication Date: September 5, 2000
Description
Winner of the Pacific Northwest Booksellers Award for Best First Novel and the Mountains and Plains Booksellers Award for Best Novel
In "Winter Range," the intimate details of ranching and small-town life are woven into the suspenseful story of three people struggling to survive, to belong, and to love in the chillingly bleak landscape of eastern Montana. Ike Parsons is a small-town sheriff whose life is stable and content; his wife Pattiann is a rancher's daughter with a secret past. But when Ike tries to help a hard-luck cattleman named Chas Stubblefield, he triggers Chas's resentment and finds his home and his wife targeted by a plot for revenge.
About the Author
Winter Range is Claire Davis' first novel. She has been published in the Southern Review, Gettysburg Review, Shenandoah, and elsewhere. She has received a Pushcart Prize for her short fiction. She lives in Idaho.
Praise For Winter Range…
"Fresh and provocative...Davis's literary ethos rivals Larry Watson, Kent Haruf and Ivan Doig." —Ron Franscell, San Francisco Chronicle

"Brilliant, beautifully written...Davis's skill brings wintry Montana alive." —Kirkus Reviews (starred)

"Wonderful...her story races toward a gripping, ice-bound tragedy." —Ron Charles, Christian Science Monitor

"Impressive...Davis writes so well." —Bob Minzesheimer, USA Today

"A fine first novel....with lyrical precision, Davis describes a way of life in which actions are more eloquent than words." —The New Yorker

"Davis...vividly teaches her readers something new... fresh and unexpected every time." —Susan Salter Reynolds, Los Angeles Times

"Penetrating, and heart-wrenching detail... Davis has pictured the region and its peoples with such credible vividness that her images speak for themselves." —San Diego Tribune

"[A] wonderfully strange story...an unflinching portrait of a way of life indebted to nature." —Louise Jarvis, The New York Times Book Review

"This is a novel of social class and dreadful climate, Americans in desperate circumstances trying—and sometimes failing—to live peaceful lives." —Carolyn See, Washington Post
Advertisement