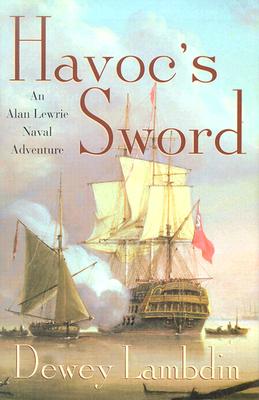 Havoc's Sword (Hardcover)
An Alan Lewrie Naval Adventure
Thomas Dunne Books, 9780312286880, 384pp.
Publication Date: December 1, 2003
Other Editions of This Title:
Paperback (12/16/2004)
* Individual store prices may vary.
Description
Dewey Lambdin's lovable but incorrigible rogue, Captain Alan Lewrie, Royal Navy, is back to cut a wide and wicked swatch through the war-torn Caribbean in an entirely new high seas adventure.

It's 1798, and Lewrie and his crew of the Proteus frigate have their work cut out for them. First, he has rashly vowed to uphold a friend's honour in a duel to the death. Second, he faces the horridly unwelcome arrival of HM Government's Foreign Office agents (out to use him as their cat's-paw in impossibly vaunting schemes against the French). And last, he must engineer the showdown with his arch foe and nemesis, the hideous ogre of the French Revolution's Terror, that clever fiend Guillaume Choundas!

We know Lewrie can fight, but can he be a diplomat, too? He must deal with the newly reborn United States Navy, that uneasy, unofficial "ally", and the stunning, life-altering surprise they bring. For good or ill, Lewrie's in the "quag" up to his neck, this time. Can sword, pistol, and broadsides avail, or will words, low cunning, and Lewrie's irrepressible wit be the key to his victory and survival, as even the seas cry "Havoc"?
About the Author
Dewey Lambdin is the author of ten previous Alan Lewrie novels and an omnibus volume, "For King and Country." A member of the U.S. Naval Institute and a Friend of the National Maritime Museum in Greenwich, England, he spends his free time working and sailing on a rather tatty old sloop, Wind Dancer. He makes his home in Nashville, Tennessee, but would much prefer Margaritaville or Murrell's Inlet.
or
Not Currently Available for Direct Purchase