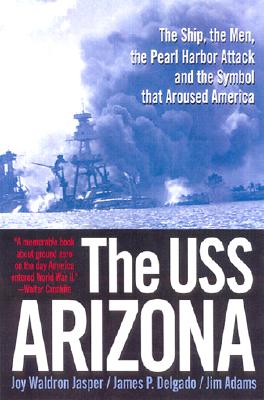 The USS Arizona: The Ship, the Men, the Pearl Harbor Attack, and the Symbol That Aroused America (Hardcover)
The Ship, the Men, the Pearl Harbor Attack, and the Symbol That Aroused America
Truman Talley Books, 9780312286903, 288pp.
Publication Date: November 1, 2001
* Individual store prices may vary.
or
Not Currently Available for Direct Purchase
Description
"Remember the Arizona!" was the battle cry of American sailors stationed in the Pacific during World War II. The mighty warship, which was bombed at Pearl Harbor by the Japanese on December 7, 1941, became and remains to this day a symbol and rallying point for America's sudden entrance into war.

Here, using eyewitness accounts of the bombing and the sinking, the authors narrate the compelling history of the USS Arizona before, during, and after the attack, and describe the Arizona Memorial's legacy today. This engrossing book includes sixteen pages of photographs and extensive interviews with sailors who survived Imperial Japan's attack. The USS Arizona, published on December 7, 2001, the sixtieth anniversary of the surprise attack, is the only full-length book on the great ship and its beautiful resting place.
About the Author
Joy Waldron Jasper is an investigative journalist and a magazine feature writer. She is the coauthor of "The Lighthouses of Delaware Bay and River "and is currently researching her next book. She lives in western Massachusetts.

James P. Delgado is a noted underwater archaeologist and historian who has dived on many wrecks, including the USS "Arizona "and Admiral Yamamoto's flagship, "Nagato. "He is the executive director of the Vancouver Maritime Museum and lives in Vancouver, British Columbia.

Jim Adams, following a career in the Marine Corps, joined the National Park Service and became the cultural resources manager at the USS "Arizona "Memorial. Presently assigned to Biscayne National Park in Florida, he is writing a biography about his late father, the journalist Val Adams, who survived the attack on Pearl Harbor.
Praise For The USS Arizona: The Ship, the Men, the Pearl Harbor Attack, and the Symbol That Aroused America…
"A memorable book about ground zero on the day America entered World War II." --Walter Cronkite

"Superbly researched, brilliantly written, The USS Arizona is a moving portrayal of a towering tragedy filled with the drama and courage of ordinary men." --Clive Cussler

"The moment that will never leave my mind is when I walked up on the Navy landing and saw the Arizona. The Japanese were overhead, the Arizona was down and burning, the Nevada was under way, and I stood there and watched her go aground. The Oklahoma was upside down. I still see it." --Ralph D. Byard, Chief Commissary Steward

"We looked outside and saw the planes going by. Then they rang the general alarm. I went up to the crow's nest on the after mast. They were strafing and bombing...I was scared. Everybody was scared. Anybody said they weren't scared were crazy." --Vernon J. Olsen, Seaman 1st Class

"I stuck my head in [the gallery deck] and it was full of gas...I couldn't breathe. I couldn't see anybody, but I heard them hollering all down below. The were screaming and pounding. Cursing. And the noise of bombs was deafening. Bang! Bang! Boom! Bang! The ship would just jerk and toss every time a bomb hit." --James P. Foster, Seaman 1st Class
Advertisement