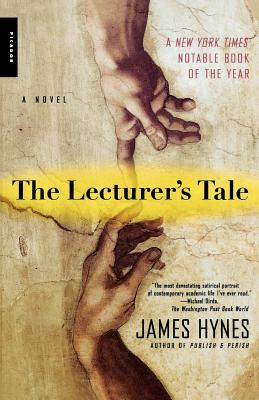 The Lecturer's Tale
A Novel
Paperback

* Individual store prices may vary.
Description
Nelson Humboldt is a visiting adjunct English lecturer at prestigious Midwest University, until he is unceremoniously fired one autumn morning. Minutes after the axe falls, his right index finger is severed in a freak accident. Doctors manage to reattach the finger, but when the bandages come off, Nelson realizes that he has acquired a strange power—he can force his will onto others with a touch of his finger. And so he obtains an extension on the lease of his university-owned townhouse and picks up two sections of freshman composition, saving his career from utter ruin. But soon these victories seem inconsequential, and Nelson's finger burns for even greater glory. Now the Midas of academia wonders if he can attain what every struggling assistant professor and visiting lecturer covets—tenure. The Lecturer's Tale is a pitch-perfect blend of satire and horror.
Praise For The Lecturer's Tale: A Novel…
"The most devasting satirical portrait of contemporary academic life I've ever read." —Michael Dirda, The Washington Post Book World

"[Hynes] writes so brilliantly, inventively, and lovingly about the sins of academe that the reader ends up, like Milton's Satan, even more eager to serve in Hell." —Chronicle of Higher Education

"A full-blown academic farce. Hynes has hit on a brilliant ploy in weaving Gothic horror with contemporary lit crit." —Tobin Harshaw, The New York Times Book Review

"Hynes bathes his ship of overeducated fools in such luscious detail (the trends! the allusions! the hairstyles!) that he vaults to the head of the crowded class of academic satirists." —Kirkus Reviews

"Near perfection . . . The Lecturer's Tale is an arch academic horror story where no chain-rattling ghost could hold a candle to the terror that is a power-hungry English department chairman. It's is also a very funny, very dark satire that does more to deflate academic pretense than any earnest political lament ever could." —The Hartford Courant

"The Lecturer's Tale is rowdy and brilliant--pointedly literate and scathingly funny all at once." —Texas Monthly

"A delight to read . . . It is the kind of book that all of us who spend hour upon hour trying to achieve consensus in ideological divided committees fantasize about writing someday (if only we had Hynes's talent)." —Eliza Nichols, Boston Review

"A daring comic novel . . . [that will] leave readers happy." —Entertainment Weekly

"More than just a ribald tale of modern misbehavior among the learned class, The Lecturer's Tale sings a song of fervent love for the English language." —The Austin Chronicle

"Ferocious . . . Splicing a demonic strain into the usual elements of academic comedy, Hynes's novel . . . reads like David Lodge rewritten by Mikhail Bulgakov." —Publishers Weekly l(starred review)

"[A] wickedly funny academic horror novel." —Polly Shulman, Newsday

"A wild, laugh-out-loud ride." —Carrie Harrison, San Francisco Chronicle

"[Hynes] has a knack for exploding academic stereotypes into hyperbole so unreal that it's giddily true . . . An acidulously droll spoof." —The Commercial Appeal
Picador, 9780312287719, 400pp.
Publication Date: February 9, 2002
About the Author
James Hynes is the author of the novels The Lecturer's Tale and Wild Colonial Boy, as well as the stories Publish & Perish (all New York Times Notable Books of the Year). He lives in Austin, Texas.