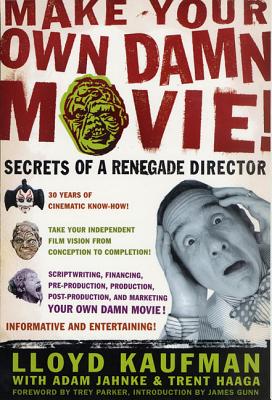 Make Your Own Damn Movie!
Secrets of a Renegade Director
Paperback

* Individual store prices may vary.
Description
Lloyd Kaufman, the writer/producer/director of such cult-classic films as The Toxic Avenger, Class of Nuke 'Em High, and Tromeo and Juliet, offers a guide to movie-making unlike any other available anywhere. In 25 years, Kaufman, along with partner Michael Herz, has built Troma Studios up from a company struggling to find its voice in a field crowded with competitors to its current--and legendary--status as a lone survivor, a bastion of true cinematic independence, and the world's greatest collection of camp on film.
As entertaining and funny as it is informative and insightful, Make Your Own Damn Movie! places Kaufman's radically low-budget, independent-studio style of filmaking directly in the reader's hands. Thus we learn how to: develop and write a knock-out screenplay; raise funding; find locations and cast actors; hire a crew; obtain equipment, permits, and music rights (all for little or no money); make incredible special effects for $0.79 each; charm, schmooze, and network while on the film-festival circuit; and, finally, make a bad actor act so bad it's actually good.
From scriptwriting and directing to financing and marketing, this book is brimming with utterly off-the-wall, decidedly maverick, yet consistently proven advice on how to fully develop one's idea for an independent film.
Praise For Make Your Own Damn Movie!: Secrets of a Renegade Director…
"If you want to make a movie because you want to become rich, go put a thousand dollars down on thirteen black . . . Your odds are way better . . . If, however, you want to make a movie because you want people to laugh, or cry, or puke--then read [this book]." —Trey Parker, from the Foreword
L.A. Weekly Books, 9780312288648, 352pp.
Publication Date: April 5, 2003
About the Author
Lloyd Kaufman has written, produced, and/or directed more than 25 films, including The Toxic Avenger, Sgt. Kabukiman NYPD, and Terror Firmer. He is president of Troma Entertainment. This is his second book.
Adam Jahnke
worked for Troma Entertainment, where he wrote 20 episodes of
Troma's Edge TV
and the Scribe Award-nominated novelization of Kaufman's
The Toxic Avenger
.
Trent Haaga
is a low-budget horror actor, screenwriter, and director known for
Terror Firmer, 68 Kill, Cheap Thrills
, and the fourth Toxic Avenger film,
Citizen Toxie
.