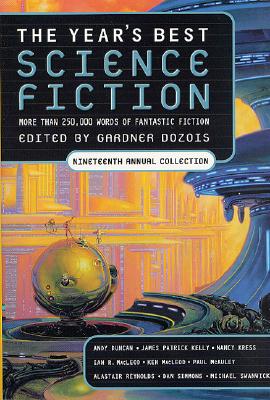 The Year's Best Science Fiction
Nineteenth Annual Collection
Paperback

* Individual store prices may vary.
Other Editions of This Title:
Paperback (7/15/2014)
Hardcover (7/1/2002)
Hardcover (6/23/2009)
Paperback (7/3/2012)
Hardcover (7/15/2014)
Description
The twenty-first century has so far proven to be exciting and wondrous and filled with challenges we had never dreamed. New possibilities previously unimagined appear almost daily . . . and science fiction stories continue to explore those possibilities with delightful results:

Collected in this anthology are such compelling stories as:

"On K2 with Kanakaredes" by Dan Simmons. A relentlessly paced and absorbing tale set in the near future about three mountain climbers who must scale the face of K2 with some very odd company.

"The Human Front" by Ken MacLeod. In this compassionate coming-of-age tale the details of life are just a bit off from things as we know them-and nothing is as it appears to be.

"Glacial" by Alastair Reynolds. A fascinating discovery on a distant planet leads to mass death and a wrenching mystery as spellbinding as anything in recent short fiction.

The twenty-six stories in this collection imaginatively takes us far across the universe, into the very core of our beings, to the realm of the gods, and the moment just after now. Included here are the works of masters of the form and of bright new talents, including:

Eleanor Arnason
Chris Beckett
Michael Blumlein
Michael Cassutt
Brenda W. Clough
Paul Di Filippo
Andy Duncan
Carolyn Ives Gilman
Jim Grimsley
Simon Ings
James Patrick Kelly
Leigh Kennedy
Nancy Kress
Ian R. MacLeod
Ken MacLeod
Paul J. McAuley
Maureen F. McHugh
Robert Reed
Alastair Reynolds
Geoff Ryman
William Sanders
Dan Simmons
Allen M. Steele
Charles Stross
Michael Swanwick
Howard Waldrop

Supplementing the stories are the editor's insightful summation of the year's events and a lengthy list of honorable mentions, making this book a valuable resource in addition to serving as the single best place in the universe to find stories that stir the imagination and the heart.
Praise For The Year's Best Science Fiction: Nineteenth Annual Collection…
"This annual anthology quite simply the best, most comprehensive look at today's sf . . . Dozois has chosen stories that define the genre and its trends today—tales that show that show that sf conintues to fruitfully forge across new boundaries."—Publishers Weekly

"The book that has to be read every year . . . It's silly to pick favorites among so many good stories."—Fred Cleaver, The Denver Post

"This series has become an institution, and deservedly so."—Clinton Lawrence, Science Fiction Weekly

"For anyone interested in sf short stories, this is the best—indeed the only—place to start."—Kirkus Reviews
St. Martin's Griffin, 9780312288792, 688pp.
Publication Date: July 1, 2002
About the Author
Gardner Dozois has been working in the science fiction field for more than thirty years. Since 1985, he has been the editor of Asimov's Science Fiction magazine, during which time he has received the Hugo Award for Best Editor twelve times. He lives in Philadelphia, Pennsylvania.
or
Not Currently Available for Direct Purchase