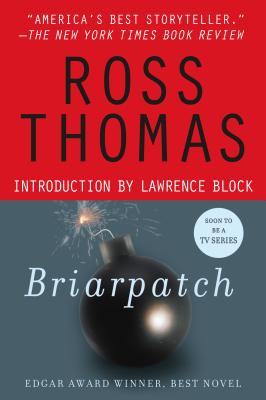 Briarpatch (Paperback)
St. Martins Press-3pl, 9780312290313, 336pp.
Publication Date: January 9, 2003
Description
A long-distance call from a Texas city on his birthday gives Benjamin Dill the news that his sister it's her birthday, too, they were born exactly ten years apart has died in a car bomb explosion. It's the chief of police calling Felicity Dill worked for him; she was a homicide detective. Dill is there that night, the beginning of his dogged search for her killer. What he finds is no surprise to him, because Benjamin Dill is never surprised at what awful things people will do but it's a real surprise to the reader. As Newsday said when the novel was first published, "One sure thing about Ross Thomas's novels: A reader won't get bored waiting for the action to start.
About the Author
Ross Thomas is ranked as one of the very top thriller writers by his fellow authors, and his readers loudly agree. Two Edgar Awards, and other prizes, only complement the abundant praise that Thomas has received.Thomas died in 1995, and since then all but one of his twenty-five novels have gone out of print. This should never have happened to the man of whom The New Yorker has said, "Very few...are as consistently entertaining...even fewer can match him for style and power." St. Martin's Minotaur is proud to remedy this situation by reissuing Thomas's novels. So start reading, and prepare to join Ross Thomas's legions of admiring fans.
Praise For Briarpatch…
"America's best storyteller."—The New York Times Book Review
Coverage from NPR
Advertisement