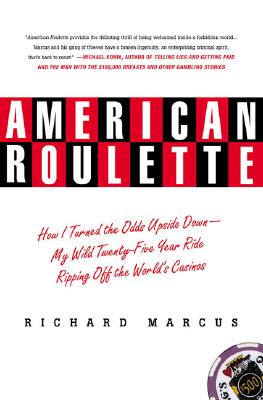 American Roulette: How I Turned the Odds Upside Down---My Wild Twenty-Five-Year Ride Ripping Off the World's Casinos (Hardcover)
How I Turned the Odds Upside Down---My Wild Twenty-Five-Year Ride Ripping Off the World's Casinos
Thomas Dunne Books, 9780312291396, 336pp.
Publication Date: September 1, 2003
* Individual store prices may vary.
or
Not Currently Available for Direct Purchase
Description
In American Roulette, Richard Marcus tells his never-before-heard story, of ripping off casinos. The book follows Marcus, along with several of the world's great professional casino cheaters, as he travels from Las Vegas to London and Monte Carlo, pilfering large sums of money from casinos by performing sleight of hand magic tricks with gaming chips. As skilled cheaters, they back up their moves with psychological setups to convince pit bosses that they're watching legitimate high rollers getting lucky, while in fact they're being ripped off blind.

With the exploding growth of casino gambling, heightened by Indian reservation and riverboat expansion, more and more elaborate casino cheaters are illegally assaulting the green-felt, getting rich off of novice casino personnel. Richard Marcus's insider story is a window into the hidden world of intriguing personalities and tense situations he encounters as a member of expert casino-cheating teams who use their wits to turn the odds upside down and "earn" millions. American Roulette is a fascinating story not only for those who occasionally casino-gamble, but for everyone with a little larceny in their heart.
About the Author
Richard Marcus has done nothing but cheat gambling casinos since he was twenty-one. He was born in New York and has lived all over the world.
Praise For American Roulette: How I Turned the Odds Upside Down---My Wild Twenty-Five-Year Ride Ripping Off the World's Casinos…
Praise for American Roulette:

"In this memoir, a grafter with a predator's understanding of human frailty recounts his true adventures swindling casinos the world over. Marcus's prose is so detail-rich it's as if you're fattening your pockets and running from the "steam" [i.e., angry casino muscle] right alongside him." - Details magazine (October 2003)

"American Roulette provides the titillating thrill of being welcomed inside a forbidden world. As fun as it is revealing."--Michael Konik, author of Telling Lies and Getting Paid and The Man with the $100,000 Breasts and other Gambling Stories

"Richard Marcus is that rarest of tour guides: a real insider who offers an unvarnished account of how he cheated casinos out of tidy little piles of money....a rare tell-all."--Timothy L. O'Brien, author of Bad Bet: The Inside Story of the Glamour, Glitz, and Danger of America's Gambling Industry

"So much fun to read that this book deserves to be in two sections of every bookstore - Crime and Magic. One of the most original books on gambling and Las Vegas that I've ever read."--Bert Randolph Sugar, author of The Caesars Palace Sports Book of Betting
Advertisement