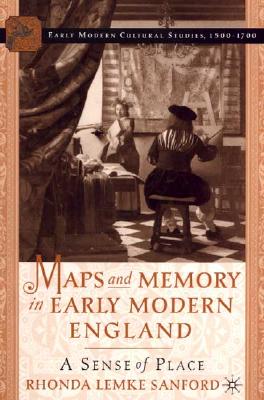 Maps and Memory in Early Modern England
A Sense of Place
Hardcover

* Individual store prices may vary.
Description
Dealing with the relationship between the places of England and depictions of places in maps and literature, "Maps and Memory" focuses on increasingly local terrain to show how understanding contemporary maps is useful to understanding literary works of the time.
Praise For Maps and Memory in Early Modern England: A Sense of Place…
"Maps and Memory in Early Modern England is a timely book. Its considerations of the relations between place and space offer a useful overview of the politics and social consequences of mapping. This overview develops amid particularized accounts of how a variety of early modern writers, including Whitney, Spenser, Shakespeare, and Jonson, employed place and space. Among the book's strengths are a reading of Ben Jonson's 'To Penshurst' via early modern texts on surveying and Sanford's contextualization of Isabella Whitney's poems within cartographic and chorographic trends at the turn of the seventeenth century." -- Susan Frye, Professor of English, University of Wyoming

"In a way appropriate to her topic, Sanford reorients our understanding of the relationship between mapping and writing in early modern England.... Throughout, [she] reminds us of the consequences of both literal and literary mapmaking: maps, poems, and plays both secure the boundaries of ownership, and define who remains outside those boundaries, unruly and unruled. This smart and well-written study will interest both historians and literary critics concerned with issues of gender, class, and property ownership in the Tudor-Stuart period." -- Katherine Eggert, Associate Professor of English, University of Colorado, Boulder

"The last decade has witnessed an explosion of critical work on literature and cartography in the early modern period. Sanford's book marks a significant contribution to this burgeoning area of study. Its emphasis on maps and / as memory systems is a fresh and convincing one.... Sanford shows in close detail the interanimation of cartographic and literary works, and, intriguingly, argues for multiple connections between the production and the producers of both kinds of works. Maps and Memory succeeds admirably in exploring the importance of both maps and map-mindedness to the poetry, drama and prose--and the politics--of early modern England." --Garrett A. Sullivan, Jr., Associate Professor of English, Pennsylvania State University
Palgrave MacMillan, 9780312294557, 240pp.
Publication Date: April 15, 2002
About the Author
RHONDA LEMKE SANFORD is Assistant Professor of English at Fairmont State College. She has published on Shakespeare's Cymbeline and on Internet web resources for early maps.
or
Not Currently Available for Direct Purchase