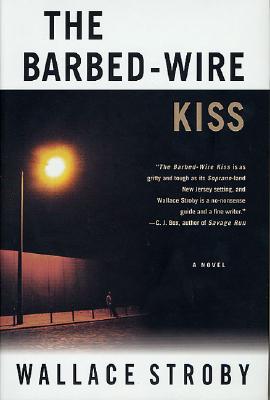 The Barbed-Wire Kiss (Hardcover)
Minotaur Books, 9780312300340, 352pp.
Publication Date: February 1, 2003
* Individual store prices may vary.
or
Not Currently Available for Direct Purchase
Description
Two years ago, Harry Rane's wife died after a bout with cancer. Then, grief-stricken and careless, he went back to his job as a New Jersey state cop and got shot in the line of duty. He took early retirement, and now lives in an old farmhouse in rural New Jersey and takes life one day at a time. It's not much, but he gets by.

Things change when an old friend from his grade school days in Long Branch calls him for help. Bobby was Harry's best friend until high school graduation, but when Harry went to the police academy Bobby went another way, working, dealing a little on the side. Now he's taken one last chance and gotten in over his head for $50,000 to Eddie Fallon, a local crime boss. Harry goes to see Fallon on Bobby's behalf, hoping to work something out, but it's hard to negotiate with a man like Fallon, and things quickly get complicated, and dangerous.

He does learn, too, that he and Fallon have something in common --- Fallon's wife is an ex-girlfriend Harry hasn't seen since he was eighteen, a girl who was pregnant with his child when she ran away.

In this brooding, blistering debut set against the spare, atmospheric background of downstate New Jersey, Harry gets caught between his past and his future, between right and vengeance.
About the Author
Wallace Stroby is a journalist for the "New Jersey Star Ledger" and lives in Ocean Grove, New Jersey. This is his first novel.
Praise For The Barbed-Wire Kiss…
"The Barbed-Wire Kiss is as gritty and tough as its Soprano-land New Jersey setting, and Wallace Stroby is a no-nonsense guide and a fine writer." ---C. J. Box, author of Savage Run

Advance praise for The Barbed-Wire Kiss

"Mr. Stroby's keen sense of character and inordinate understanding of people in all walks of life is what makes his work stand out from the field. Page for compelling page, I detect the tracks of a writer who has the gift of creating surprising, satisfying fiction; a sure, well-honed technique that caused me to read in awe. The Barbed-Wire Kiss compares favorably with the most successful current bestsellers in this genre. A new member has been added to the Michael Connelly -- Robert Crais -- Harlan Coben club of crime fiction. This work marks the debut of a novelist of great promise." --Gerald Petievich, author of To Live and Die in L.A.

"If novels should address how it is to live on human, social, and personal bases, then Wallace Stroby's The Barbed-Wire Kiss is that rarest of mystery novels, both a good novel and a thrilling mystery. Drawing on his career as a journalist living on the Jersey Shore, Stroby has written a novel that is part Sopranos, part Springsteen, but in all a unique and stunning debut from a writer who understands that less really is more. His prose is clear, brief, and utterly engaging. Harry Rane --- his emotionally vulnerable-but-daring ex-cop --- has an eye for the telling detail and should be in for a long run." --- Bartholomew Gill, author of The Death of an Irish Sinner

"The Barbed-Wire Kiss is one of those books that gut-hooks on the first page and never lets you go. Wallace Stroby gives us vivid characters, a compelling plot, and a sense of place so spot-on that you swear you can smell it. What more can you ask for?" --- John Gilstrap, author of Scott Free and Nathan's Run
Advertisement