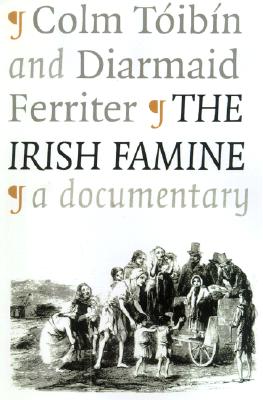 The Irish Famine (Hardcover)
A Documentary
Thomas Dunne Books, 9780312300517, 224pp.
Publication Date: July 1, 2002
* Individual store prices may vary.
Description
The Irish Potato Famine of the 1840s has been popularly perceived as a genocide attributable to the British government. In professional historical circles, however, such singular thinking was dismissed many years ago, as evidenced by the scathing academic response to Cecil Woodham-Smith's 1963 classic, The Great Hunger, which, in addition to presenting a vivid and horrifying picture of the human suffering, made strong accusations against the British government's failure to act.

And while British governmental sins of omission and commission during the famine played their part, there is a broader context of land agitation and regional influences of class conflict within Ireland that also contributed to the starvation of more than a million people.

This remarkable book opens a door to understanding all sides to this tragedy with an absorbing history provided by novelist Colm Toibin that is supported by a collection of key documents selected by historian Diarmaid Ferriter. An important piece of revisionist thinking, The Irish Famine: A Documentary is sure to become the classic primer for this lamentable period of Irish history.
About the Author
Colm Toibin is the author of four novels ("The Blackwater Lightship" was shortlisted for the Booker Prize) and is currently a Fellow of the Center for Scholars and Writers at the New York Public Library.

Diarmaid Ferriter received his Ph.D. in modern Irish history from the National University of Ireland. He is the author of two histories of Ireland and lectures at St. Patrick's College, Dublin City University.
Praise For The Irish Famine: A Documentary…
"An unusual and fascinating book that brings new insights."—Sunday Independent

"A remarkable and intelligent volume."—The Irish Post

"Implicit in Tóibín's critique is a desire to move beyond those historians who would reject the simplicity of colonial villainy and those eager to blame the English and the absentee landlords . . .This fresh little book points us towards a search for new terrain."—New Statesman

"As a vignette of Irish history this book succeeds on all counts."—The Irish World

"Between 1846 and 1849, the potato blight left some one million Irish citizens dead of starvation or disease; Booker Prize-nominated novelist Colm Tóibín and historian Diarmaid Ferriter team up to reconsider the tragedy (was it the fault of the British?) in The Irish Famine: A Documentary. Tóibín pens a historiography that acknowledges 'no narrative now seems capable of combining the sheer scale of the tragedy . . . the complex society which surrounded it and the high politics which governed it,' while Ferriter compiles a wide range of documents, including letters, newspaper articles and relief commission reports, to offer a scholarly look at the days of (in the words of a parish priest) 'calamity' and 'universal doom.'"—Publishers Weekly
or
Not Currently Available for Direct Purchase