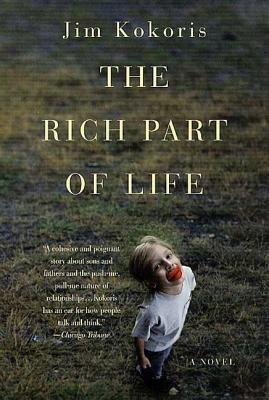 The Rich Part of Life (Paperback)
A Novel
St. Martin's Griffin, 9780312300708, 336pp.
Publication Date: May 16, 2002
Other Editions of This Title:
Hardcover (5/1/2001)
Paperback (8/1/2002)
* Individual store prices may vary.
Description
After Teddy loses his mother to a car accident, he and his young brother are left with their eccentric Civil War professor father, who is more able to discuss Confederate footwear than his sons' day at school. But Teddy's father plays the lottery with his wife's old numbers, and wins $190 million, immediately transforming their lives forever. For the first time, the family must learn what "the rich part of life" really is. Creating the perfect balance of humor and pathos, Jim Kokoris takes us on an unforgettable journey through the ups and downs of this revelation of unexpected wealth.
About the Author
JIM KOKORIS is the author of the novels The Rich Part of Life, which has been published in fifteen languages and for which he won a Friends of American Writers Award for Best First Novel, Sister North, and The Pursuit of Other Interests. A graduate of the University of Illinois, Jim lives in the Chicago area with his family.
Praise For The Rich Part of Life: A Novel…
"Mr. Kokoris's talent is evident on every page. He is in touch with the human spirit and offers, in this post-modern world, a refreshing hope for redemption." —Howard Bahr, author of The Black Flower and The Year of Jubilo
"In The Rich Part of Life, Jim Kokoris has created the rarest of literary gems-- a narrator who is pure of heart yet entirely authentic. He writes through the eyes of Teddy Pappas with both clarity and innocence. This debut novelist is one of tremendous promise, and I look forward to all of his future books." —T. Greenwood, author of Nearer than the Sky and Breathing Water
"A hilarious gem. Kokoris has a David Sedaris-like ear for the lyrical quirks and idiosyncrasies of his ridiculous yet endearing family of characters. A wonderful comic novel on a par with Richard Russo, at once madcap and absurd, with a plot that is always engaging, compelling, and yes, heartwarming." —Richard Rushfield, author of On Spec