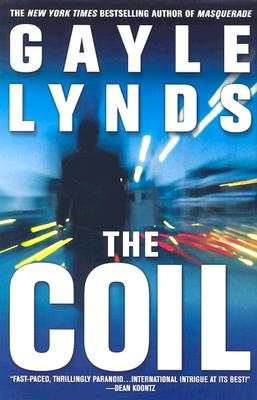 The Coil (Hardcover)
St. Martin's Press, 9780312301446, 464pp.
Publication Date: April 1, 2004
* Individual store prices may vary.
or
Not Currently Available for Direct Purchase
Description
Liz Sansborough thought she had left her past behind forever. A former CIA field agent as well as the daughter of perhaps the most notorious Cold War assassin, the man known to the world only as The Carnivore, Liz is now a university professor in Southern California specializing in the psychology of violence. But her dead father's legacy has come back to overtake Liz.

Someone, somewhere is claiming to have possession of the Carnivore's secret files and is using the information contained within them to blackmail prominent world figures to promote some secret agenda. Files that Liz swore her father never kept. First Liz herself is attacked and almost killed, then Liz's cousin Sarah Walker is kidnapped in Paris and her husband, CIA agent Asher Flores, is gravely wounded. The only ransom the kidnappers will accept is the Carnivore's files. Now if Liz is to save Sarah, she must somehow resurrect her old tradecraft skills and, in a desperate hunt across two continents, locate the files and uncover a dark and dangerous conspiracy linked to a shadowy group known only as the Coil.

With her bestselling thriller Masquerade, Gayle Lynds earned her reputation as one of the most exciting new writers of international suspense. Now with The Coil, the sequel to Masquerade, Gayle Lynds is at the very top of her form, proving herself one of the finest writers in the field today.
About the Author
Gayle Lynds is the author of the "New York Times" bestselling thriller "Masquerade," as well as the novels "Mosaic" and "Mesmerized." With Robert Ludlum, she is the author of three of the bestselling Covert-One novels, "The Hades Factor," "The Paris Option" and "The Altman Code." After a varied career including stints as a journalist, an editor, and at a military think tank where she had Top Secret clearance, Lynds is now a full-time writer. She lives with her husband, novelist Dennis Lynds, in Santa Barbara, California.
Praise For The Coil…
"The Coil is tantalizing with plenty of suspense and action, great characters, and settings that span the world. I love it!"
- Dale Brown, author of Flight of the Old Dog and Air Battle Force

"The Coil is fast-paced, thrillingly paranoid, page-turning international adventure and intrigue at its best!"
- Dean Koontz, author of Odd Thomas and Whispers

"Smart, complex, and immensely entertaining. The surprises start on the first page and keep coming all the way to the end. The Coil is sure to be a bestseller!"
- Thomas Perry, author of Pursuit and The Butcher's Boy

"The Coil is a terrific read, exactly the kind of fast-paced espionage thriller that I love. Great characters, a turbo-charged narrative full of surprises, dark and fabulous settings -- what more could you want?"
- Douglas J. Preston, author of Brimstone and The Codex

"The Coil is a triumph - an absolutely compelling international thriller that confirms Lynds as being right at the top of the field. If you already know Lynds' work, then prepare yourself for what is definitely her best book yet; if you've never read Lynds before then I envy you, you are in for a real treat."
- David Morrell, author of The Protector and First Blood

"In this thrill-a-minute tale of secret operatives and hired assassins, Gayle Lynds proves once again why she's the leading lady of international intrigue. Her dead-on research and breakneck pacing leave you -- like former CIA agent Liz Sansborough -- navigating a maze of deadly agendas. Beware the Coil!"
-Gregg Hurwitz, author of The Kill Clause and Do No Harm




"The Coil is tantalizing with plenty of suspense and action, great characters, and settings that span the world. I love it!"

-Dale Brown, author of Flight of the Old Dog and Air Battle Force


"The Coil is fast-paced, thrillingly paranoid, page-turning international adventure and intrigue at its best!"

-Dean Koontz, author of Odd Thomas and Whispers


"Smart, complex, and immensely entertaining. The surprises start on the first page and keep coming all the way to the end. The Coil is sure to be a bestseller!"

-Thomas Perry, author of Pursuit and The Butcher's Boy


"The Coil is a terrific read, exactly the kind of fast-paced espionage thriller that I love. Great characters, a turbo-charged narrative full of surprises, dark and fabulous settings -- what more could you want?"

-Douglas J. Preston, author of Brimstone and The Codex


"The Coil is a triumph - an absolutely compelling international thriller that confirms Lynds as being right at the top of the field...."

-David Morrell, author of The Protector and First Blood


"In this thrill-a-minute tale of secret operatives and hired assassins, Gayle Lynds proves once again why she's the leading lady of international intrigue....."

-Gregg Hurwitz, author of The Kill Clause and Do No Harm
Advertisement