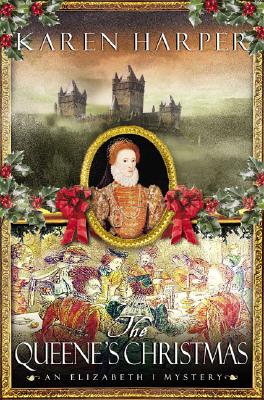 The Queene's Christmas: An Elizabeth I Mystery (Hardcover)
An Elizabeth I Mystery
Minotaur Books, 9780312301750, 320pp.
Publication Date: October 1, 2003
* Individual store prices may vary.
or
Not Currently Available for Direct Purchase
Description
Elizabethan England comes alive in all its pomp and pageantry, deadly intrigue and scandal-and fine feasting-in Karen Harper's acclaimed mystery series featuring the young queen, Elizabeth Tudor, as amateur sleuth.

An old English Yule has never been merrier or more mysterious. A New Year's celebration has never looked more joyous but been so potentially deadly.

Fearing the Twelve Days of Christmas of 1564 may be the last for her ailing, elderly friend, Lady Kat Ashley, Queen Elizabeth decrees a nostalgic, old-fashioned holiday. Delicious dishes for the table, holly and ivy, caroling, wassailing, mumming, and a Lord of Misrule to oversee it all are in the recipe for the revels. But one of the queen's kitchen staff is found as dead as the ornate peacock he was preparing for the feast.

As more murders threaten customs, kingdom, and Christmas, Elizabeth and her diverse band of Privy Plot Counselors try desperately to solve the increasingly bizarre crimes.When the Thames freezes over and Londoners take to the ice for an elaborate Frost Fair. Elizabeth of England must outfox the diabolical demon who would kill not only the spirit of Christmas but the queen.
About the Author
Karen Harper is the author of five previous Elizabeth I mysteries, "The Poyson Garden," "The Tidal Poole," "The Twylight Tower," "The Queene's Cure," and "The Thorne Maze." She also writes contemporary suspense novels. Karen Harper lives in Columbus, Ohio, and Naples, Florida.
Praise For The Queene's Christmas: An Elizabeth I Mystery…
"This mystery... nicely blends intrigue, humor and period detail."
-Wall Street Journal

Praise for Karen Harper and the Elizabeth I Mystery Series

The Queene's Christmas
"Lively, abundant historical color makes Harper's latest regal caper another standout. A delectable bonus: Each chapter opens with a Yuletide recipe from the period." --Kirkus Reviews
"[A]n excellent historical series" --Library Journal
"16th-century holiday fun." --Publishers Weekly
"Harper immerses the reader in the monarch's 16th-century world with a realism that brings the characters to life." --Romantic Times Book Club
"Karen Harper brings England alive" --Rendezous

The Thorne Maze
"Tudor England's answer to V. I. Warshawski....[a] well-researched, intrigue-filled historical." --Publishers Weekly
"Brisk, energetic writing and terrific historical color." --Kirkus Reviews
"Another brilliantly plotted and authentically detailed entry in a series celebrated for its vigorous characterization of the Virgin Queen." --Booklist
"Another fine historical." --Library Journal
"Harper is to be commended for keeping true to what we know of Tudor history...and for making the factions of Elizabeth's court clearer than many history books have done." --Chicago Tribune
"The plot of Harper's novel is a mere diversion from its true pleasure: the re-creation of Elizabeth I's court, the manners of the day, the fetes, the sumptuous clothes, all of which Harper brings wonderfully alive." --Baltimore Sun

The Queene's Cure
"Karen Harper weaves a thrilling blend of historical detail and intriguing mystery. Her Queen Elizabeth I...possesses the fine detective's instinct of Sherlock Holmes. The result is an intense reading experience guaranteed to surprise and delight." --Lisa Gardner, author of The Other Daughter

The Twylight Tower
"Harper's exquisite mastery of the period, lively dialogue, energetic plot, devious characters, and excellent rendition of the willful queen make this a pleasure for fans of historical mysteries. Essential for all collections." --Library Journal
"The sleuthing is fun, but what makes The Twylight Tower comparable to the fine works of Allison Weir is the strong writing of the author." --Midwest Book Review

The Tidal Poole
"Harper delivers high drama and deadly intrigue.... [She] masterfully captures the Elizabethan tone in both language and setting and gives life to fascinating historical figures.... Elizabethan history has never been this appealing." --Newsday

The Poyson Garden
"A walk side by side with one of history's most dynamic characters." --Anne Perry, author of Half Moon Street
Advertisement