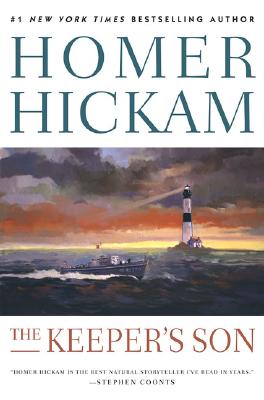 The Keeper's Son (Hardcover)
Thomas Dunne Books, 9780312301897, 352pp.
Publication Date: August 26, 2004
* Individual store prices may vary.
Description
In 1941, Killakeet Island of the wind-swept Outer Banks of North Carolina is home to a tiny, peaceful population of fishermen, clam stompers, oyster rakers, and a few lonely sailors of the Coast Guard. Dominating the glorious, raw beauty of the little island is the majestic Killakeet Lighthouse, which for generations has been the responsibility of one family, the Thurlows.
However, Josh Thurlow, the Keeper's son, has forsworn his heritage to become the commander of the Maudie Jane, a small Coast Guard patrol boat operating off Killakeet. Josh is still tortured by guilt, seventeen years after losing his baby brother at sea. Then his life is complicated by the arrival of the beautiful Dosie Crossan, who has journeyed to lonely Killakeet to escape the outside world and perhaps find a purpose in life. While Josh's heart is stirred by the often-vexing Dosie, he continues his search for his brother, even after a wolfpack of German U-boats arrives to soak the island's beaches with blood and oil.
One of the U-boats is captained by Otto Krebs, a famed and ruthless undersea warrior. Krebs, a man also scarred by lost love, comes to Killakeet, however, with more than torpedoes and plans for war: He may also have the answer to the mystery that haunts Josh Thurlow.
"The Keeper's Son" is a rousing, romantic tale of the power of the human heart forever searching for redemption.

About the Author
Homer Hickam is the author of six previous books, most notably the #1 "New York Times" bestseller "Rocket Boys," which was made into the acclaimed movie "October Sky." He is a Vietnam veteran, a scuba instructor, a retired rocket scientist, and an amateur paleontologist. More than anything else, he loves to write. He and his wife, Linda, and their cats divide their time between homes in the Virgin Islands and Huntsville, Alabama.
Praise For The Keeper's Son…
"Homer Hickam is the best natural storyteller I've read in years."
--Stephen Coonts

"In the best tradition of sea sagas, The Keeper's Son is both beautifully written and nerve-wrackingly suspenseful. Homer Hickam is a master at creating atmosphere out of words, evoking time and place so that the reader becomes nostalgic for Mr. Hickam's world. Homer Hickam's first foray into fiction is a home run."
--Nelson DeMille

"With this book Homer Hickam expands his range as never before, into the realm of fiction, and the result is a compelling novel of war, romance, haunting guilt, victory. The Keeper's Son brings alive a special place and time, the Outer Banks of North Carolina before and during World War II, and the culture of fishermen, wreckers, surfmen and lighthouse keepers. It also gives the German side in a mirroring, parallel story that connects in a thrilling climax, revealing family secrets and conflicting loyalties. With a wealth of technical and historical detail, this is a story about learning to forgive ourselves, and learning to accept the gifts of life and love."
--Robert Morgan, bestselling author of Gap Creek and Brave Enemies




"Homer Hickam is the best natural storyteller I've read in years."

-Stephen Coonts


"In the best tradition of sea sagas, The Keeper's Son is both beautifully written and nerve-wrackingly suspenseful."

-Nelson DeMille
or
Not Currently Available for Direct Purchase