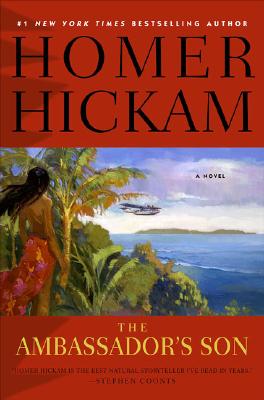 The Ambassador's Son
Hardcover

* Individual store prices may vary.
Other Editions of This Title:
Mass Market Paperback (5/2/2006)
Description
It's 1943 and the Americans and Japanese are fighting a deadly war in the hot, jungle-covered volcanic islands of the South Pacific. The outcome is in doubt and a terrible blow has fallen on American morale. Lieutenant David Armistead, a Marine Corps hero and cousin of the President of the United States, is missing and some say he's gone over to the enemy. Coast Guard Captain Josh Thurlow and his ragtag crew are given the assignment to find Armistead, though not necessarily to bring him back alive. Recruited in the hunt is a tormented and frail PT-boat skipper nicknamed "Shafty" who is also known by another name: John F. Kennedy. When Josh is stranded in the jungles of New Georgia with a mysterious, sensual woman who has a tendency to chop off men's heads, it's up to Kennedy to come to the rescue and complete the mission. But to procure a gunboat, he first has to play high-stakes poker with a young naval supply officer called Nick who happens to be the best gambler in the South Pacific. Nick has another name, too: Richard M. Nixon. Based solidly on historical fact with echoes of James Michener, "The Ambassador's""Son" is a thrilling tale of the South Pacific and adventure fiction at its finest.

Praise For The Ambassador's Son…
"Great war novels are often great adventure novels, too, and Homer Hickam's The Ambassador's Son qualifies on both counts. This fast-moving tale of action, intrigue, and romance in the Solomon Islands during World War II is filled with fascinating characters and vivid backgrounds. Hickam is one of the best yarn-spinners in the business, but more than that, he is an author whose work creates a genuine emotional resonance in the reader."
- James Reasoner, author of The Last Good War

"A beguiling South Seas romance, an epic story of love and loyalty, a richly evoked roman-a-clef about a larger-than-life American legend -- The Ambassador's Son is all of this and more. Homer Hickam puts bright, living color to our halftone memories of Jack Kennedy at war."
- James D. Hornfischer, author of The Last Stand of the Tin Can Sailors

"The Ambassador's Son is the reason I love to read. It takes you to a place where propellers and tides and bullets decide men's fates and you feel like you're sweating along with the heroes and villains. Homer Hickam is such a good writer that I'd probably read anything that he put out, but this adventure made me feel like a kid again."
- Rick Bragg, bestselling author of All Over But the Shoutin'

"With this tale of the South Pacific, Homer Hickam establishes himself as an heir to such greats as James Jones and Herman Wouk. The Ambassador's Son is WWII storytelling at its best with plenty of action, exotic surprises and compelling romance."
- James Bradley, author of Flags of Our Fathers and Flyboys

"I began Homer Hickam's The Ambassador's Son as a skeptic -- and ended it cheering! The tale is pure fantasy -- yet based on a real place, in a real war, involving real people: the Solomon
up0Islands in 1943. Fear, courage, cynicism, lust and adrenalin propel this imaginary two-week episode in the young JFK's life...the story is so gripping, you will have to know what happens."
- Nigel Hamilton, author of JFK: Reckless Youth
Thomas Dunne Books, 9780312301927, 352pp.
Publication Date: February 24, 2005
About the Author
Homer Hickam is the author of the #1 New York Times bestseller "Rocket Boys" which was made into the acclaimed movie, "October Sky." He is also the author of the bestselling The Keeper's Son and many other books including "The Coalwood Way" and "Sky of Stone." He and his wife and cats share their time between homes in Huntsville, Alabama, and the U.S. Virgin Islands.
or
Not Currently Available for Direct Purchase