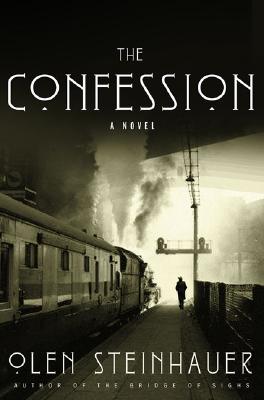 The Confession (Hardcover)
Minotaur Books, 9780312303280, 304pp.
Publication Date: March 10, 2005
* Individual store prices may vary.
or
Not Currently Available for Direct Purchase
Description
Eastern Europe, 1956: Comrade Inspector Ferenc Kolyeszar, who is a proletariat writer in addition to his job as a state militia homicide detective, is a man on the brink. Estranged from his wife, whom he believes is cheating on him with one of his colleagues, and frustrated by writer's block, Ferenc's attention is focused on his job. But his job is growing increasingly political, something that makes him profoundly uncomfortable.
When Ferenc is asked to look into the disappearance of a party member's wife and learns some unsavory facts about the party member's life, the absurdity of his position as an employee of the state is suddenly exposed. At the same time, he and his fellow militia officers are pressed into service policing a popular demonstration in the capital, one that Ferenc might rather be participating in. These two situations, coupled with an investigation into the murder of a painter that leads them to a man recently released from the camps, brings Ferenc closer to danger than ever before-from himself, from his superiors, from the capital's shadowy criminal element.
"The Confession" is a fantastic follow-up to Olen Steinhauer's brilliant debut, "The Bridge of Sighs," and it guarantees to advance this talented writer on his way to being one of the premiere thriller writers of a generation.

About the Author
Olen Steinhauer was inspired to write his Eastern European crime series while on a Fulbright Fellowship in Romania. His first novel, "The Bridge of Sighs," was shortlisted for the Edgar Award, the Macavity Award, the Barry Award, the Anthony Award, and the Ellis Peters Historical Dagger Award. Raised in Texas, he currently lives in Budapest.
Praise For The Confession…
"Postwar Eastern Europe chillingly evoked by a storyteller... who understands the relentless conjunction between character and suspense.... Good enough to suggest comparison with Graham Greene; place the author in the forefront of contemporary suspense writers..."
-Kirkus Reviews (starred review)

"This is a gripping and fully realized portrayal of a man whose strengths, flaws, struggle, and ultimate fall are emblematic of the fate of Eastern Europe itself. While skillfully developed, the intricacies of plot, particularly the story behind the diverse crimes, fade to relative insignificance in light of Ferenc's heartrending 'confession'. Densely atmospheric and strongly recommended..."
-Library Journal (starred review)

"Beyond delivering an involving police procedural in an intriguing setting, the author relates with spare irony his narrator's psychological journey.... [The Confession] is enthusiastically recommended for fans of well-made hard-boiled and noir fiction."
-Booklist (starred review)

"Bigger in scope... than The Bridge of Sighs [...Steinhauer's original and mesmerizing first mystery]... the novel makes readers wonder just what Steinhauer will do for the next book in his series..."
-Publishers Weekly (starred review)




"Bigger in scope... than The Bridge of Sighs... the novel makes readers wonder just what Steinhauer will do for the next book in his series..."
Advertisement