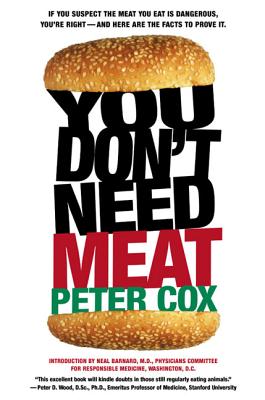 You Don't Need Meat (Paperback)
Thomas Dunne Books, 9780312303389, 378pp.
Publication Date: November 1, 2003
Description
The up-to-the minute latest news about meat-eating that our government and the meat lobby does not want us to know:
--How likely is it that mad cow disease will happen here?
--What are the latest additives being poured into our livestock feed, and how do these chemicals affect our children?
--How is big business getting away with bombarding little kids with hours of meat advertisements every day?
--If you knew what was happening in the slaughterhouses, would you continue to eat meat?
--If you knew what was happening in your arteries, would you continue to eat meat?
About the Author
Peter Cox is a leading international expert on the pros and cons of eating meat. He lectures and appears regularly in the media, and was a guest on every leading television talk show when You Don't Need Meat was published in England. He was the first chief executive of the Vegetarian Society in England, and he coauthored the bestselling Linda McCartney's Home Cooking. He has countless followers among food writers and nutrition experts worldwide, many of whom were happy to contribute their insider knowledge to You Don't Need Meat.
Advertisement