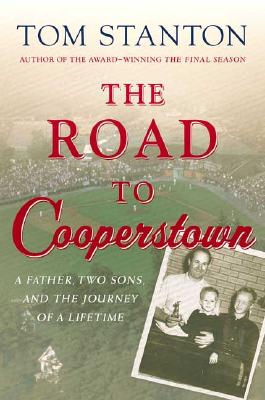 The Road to Cooperstown
A Father, Two Sons, and the Journey of a Lifetime
Hardcover

* Individual store prices may vary.
Other Editions of This Title:
Paperback (5/1/2004)
Description
Every true baseball fan dreams of visiting Cooperstown. Some make the trip as boys, when the promise of a spot in the lineup with the Yankees or Red Sox or Tigers glows on the horizon, as certain as the sunrise. Some go later in life, long after their Little League years, to glimpse the past, not the future. And still others talk of somedays and of pilgrimages that await.
For Tom Stanton, the trip took nearly three decades.
The dream first grabbed hold of him in 1972, in the era of Vietnam and Watergate and Johnny Bench and the Oakland Athletics. Stanton, then an eleven-year-old Michigan boy who lived for the game, became fascinated by the National Baseball Hall of Fame, the sport's spiritual home, the place to which great players aspire. He plotted ways to convince his father to take him to the famous village along Lake Otsego.
But his plans for that season never materialized. They disappeared in the turmoil caused by his mother's life-threatening illness and his brother's antiwar activities. Still, the dream lingered through the summers that followed. Twenty-nine years later, he invited the two men who had introduced him to the sport, his elderly father and his older brother, to join him on a trip to the Hall. Finally, they embarked on their long-delayed adventure.
"The Road to Cooperstown "is a true story populated with colorful characters: a philanthropic family that launched the museum and uses its wealth to, among other things, ensure that McDonald's stays out of the turn-of-the-century downtown; the devoted fan who wrote a book to get his hero into the Hall of Fame; the Guyana native who grew up without baseball but comes to the induction ceremony every year; the librarian on a mission to preserve his great-grandfather's memory; the baseball legends who appear suddenly along Main Street; and the dying man who fulfills one of his last wishes on a warm day in spring.
As he did with his award-winning book, "The Final Season, " Tom Stanton again tells a magical tale of fathers, brothers, and baseball heroes certain to resonate with sports fans everywhere. This adventure, though brief, provides a true bonding experience that is the heart of a sweet, one-of-a-kind book about baseball, family, the Hall of Fame, and the town with which it shares a rich heritage.

Thomas Dunne Books, 9780312303501, 272pp.
Publication Date: June 1, 2003
About the Author
Tom Stanton has been a journalist for twenty-five years. His previous book, "The Final Season," received the Casey and Dave Moore awards, for best baseball book of the year. A former professor at the University of Detroit Mercy, Stanton was the recipient of a Michigan Journalism Fellowship. He lives in New Baltimore, Michigan, with his wife, Beth, and their three sons.
or
Not Currently Available for Direct Purchase