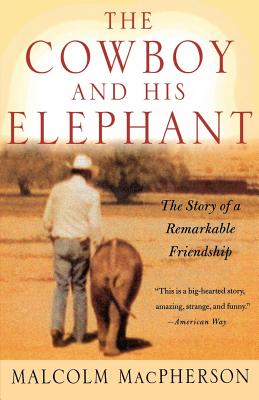 The Cowboy and His Elephant
The Story of a Remarkable Friendship
Paperback

* Individual store prices may vary.
Description
In the late 1980s, a female baby elephant was born on the plains of Southern Africa. In a "cull," her family was slaughtered. Only the newborn female's life was spared. Terrified and bewildered the young elephant was transported to America to be sold.

Bob Norris is a cowboy with an enormous empathy for animals. Handsome as a movie star, he was the Marlboro Man, with his face appearing on billboards around the world. But something was missing. When the hurt, vulnerable little elephant, Amy, came into his life, an incredible bond between the most unlikely of friends was forged.

Bob adopted Amy and through close observation, gentle training, humor, and endless perseverance, this accomplished horseman gradually coaxed Amy into overcoming her mistrust of humans, and her fear of the world. Amy became a beloved member of the Norris family, and partner to the ranch hands, but Bob knew from the start that the ultimate goal was for Amy to regain her confidence and her independence - even, if it were possible, to go back to the savannahs of Africa.

Amy may have left the cowboy's life, but she never left his heart. The Cowboy and His Elephant is a story of mutual friendship, of genuine love and compassion, and foremost, this is an American story with roots that run deep in the values and traditions of the American West.
Praise For The Cowboy and His Elephant: The Story of a Remarkable Friendship…
"Very delightful... extraordinary... Written for both the adult and child, [it] would be a great book to read to your youngsters. Just be prepared to let your kids see you get a little emotional as you read some of the heart touching episodes." —Rocky Mountain Quarter Horse Magazine

"Intrepid animal lovers will find Amy's unexpected journey at the end of the book rewarding." —Publishers Weekly

"This is a wonderful book. Suitable for all ages!" —Tulsa World

"Charming." —Washington Post Book World

"Like the fabled horse whisperers, Norris is gifted with the ability to develop true empathy for animals; his remarkable communication with Amy is equally attributable to her intelligence and ability to empathize with him.... A rewarding read. It should be enjoyed by any animal lover." —Tacoma Reporter

"Fans of Born Free will enjoy this heartwarming book." —Library Journal

"Will appeal to James Herriot fans." —Colorado Springs Gazette
St. Martin's Griffin, 9780312304065, 272pp.
Publication Date: September 3, 2002
About the Author
Malcolm MacPherson is a writer and journalist, former Newsweek staff correspondent in Nairobi, Paris, and London. He has written books of fiction and nonfiction including The Cowboy and His Elephant. He has worked as a Senior Editor for New York Magazine, a Senior Writer for Premiere, and contributed to publications from The New York Times to Reader's Digest, Playboy, and Smithsonian. He now lives in northern Virginia.