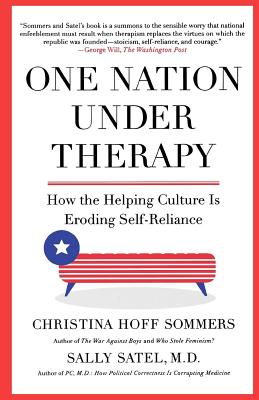 One Nation Under Therapy (Paperback)
How the Helping Culture Is Eroding Self-Reliance
St. Martin's Griffin, 9780312304447, 320pp.
Publication Date: June 27, 2006
Other Editions of This Title:
Digital Audiobook (12/31/2005)
Hardcover (3/10/2005)
MP3 CD (9/1/2007)
Compact Disc (9/1/2007)
Audio Cassette (9/1/2007)
* Individual store prices may vary.
Description
Americans have traditionally placed great value on self-reliance and fortitude. In recent decades, however, we have seen the rise of a therapeutic ethic that views Americans as emotionally underdeveloped, psychically frail, and requiring the ministrations of mental health professionals. Today---with a book for every ailment, a lawsuit for every grievance and a TV show for every conceivable problem---we are at risk of degrading our native ability to cope with life's challenges.
Drawing on established science and common sense, Christina Sommers and Dr. Sally Satel reveal how "therapism" and the burgeoning trauma industry have come to pervade our lives, with a host of troubling consequences, including:
*The myth of stressed-out, homework-burdened, hyper-competitive, and depressed schoolchildren in need of therapy and medication
*The loss of moral bearings in our approach to lying, crime, and addiction
*The unasked-for "grief counselors" who descend on bereaved families, schools, and communities following a tragedy
Intelligent, provocative, and wryly amusing, One Nation Under Therapy demonstrates that "talking about" problems is no substitute for confronting them.
About the Author
Christina Hoff Sommers is the author of Who Stole Feminism? and The War Against Boys and is the editor of Vice and Virtue in Everyday Life, one of the most popular ethics textbooks in the country. She is a resident scholar at the American Enterprise Institute in Washington, D.C.

Dr. Sally Satel is a practicing psychiatrist and a lecturer at Yale University School of Medicine. She is the author of PC, M.D.: How Political Correctness Is Corrupting Medicine. She is a resident scholar at the American Enterprise Institute in Washington, D.C.
Praise For One Nation Under Therapy: How the Helping Culture Is Eroding Self-Reliance…
"Sommers and Satel have written an important book that should be widely read. Their analysis of the baneful consequences of narcissism and self-absorption is a powerful critique." —George Will, The Washington Post
"Sommers and Satel have written an important book that should be widely read. Their analysis of the baneful consequences of narcissism and self-absorption is a powerful critique." —Diane Ravitch, author of The Language Police
"There are countless reasons to celebrate the new book One Nation Under Therapy. " —Andrew Ferguson, Bloomberg.com