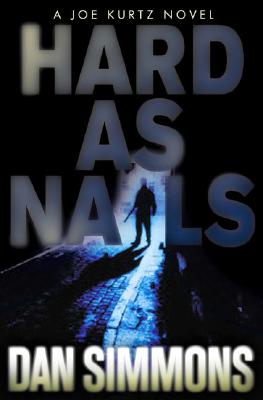 Hard as Nails: A Joe Kurtz Novel (Hardcover)
A Joe Kurtz Novel
Minotaur Books, 9780312305284, 288pp.
Publication Date: October 1, 2003
* Individual store prices may vary.
or
Not Currently Available for Direct Purchase
Description
Somewhere in Western New York, there's a remote mountaintop in the moonlight, its dark forests and moon-dappled meadows populated only by corpses. If ex-PI Joe Kurtz doesn't unravel the secret of that place in five days, he'll be one of them.

Everyone seems to want a piece of Kurtz these days and most succeed in getting one. Unknown assailants gun down Kurtz and his female parole officer, giving Kurtz the headache of a lifetime but putting pretty Peg O'Toole on life support. Working his own case through a haze of concussion migraine, Kurtz has to deal with Toma Gonzaga, the gay don who owes Kurtz a blood debt, and Angelina Farino Ferrara, the female don who is after Kurtz's body-or maybe just his head.

And while someone is murdering all the heroin addicts in Buffalo and hauling away the bodies, a serial killer called the Artful Dodger hatches his twisted plan.

In Kurtz's corner is police detective Rigby King, a beautiful woman who had been his young lover when they were both rebellious teenagers in Father Baker's Orphanage. Rigby also has designs on Joe Kurtz, but whether they're aimed at bedding or abetting him, helping him stay alive or simply putting him away for life, Kurtz will have to discover the hard way.

Lightning fast pace and unrelenting action are the hallmarks of this series, but the epic struggle portrayed in this book sets a new standard for crime fiction. Saturated with the ragged-edged aggression of the Buffalo streets, Dan Simmons's Hard As Nails comes down like a hammer smashing a thumb on a cold day.
About the Author
Since his first published short story won the Rod Serling Memorial Award in the 1982 "Twilight Zone Magazine" Short Fiction contest, Dan Simmons has won some of the top awards in science fiction, horror, fantasy, and thriller genres, as well as honors for his mainstream fiction. His books include the Joe Kurtz novels "Hardcase" and "Hard Freeze" as well as the new science fiction epic "Ilium." He lives along the Front Range of Colorado, where he is currently at work on a new Joe Kurtz novel.
Advertisement