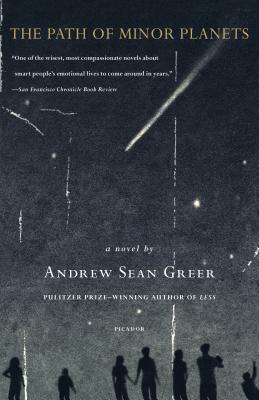 The Path of Minor Planets (Paperback)
A Novel
Picador, 9780312306052, 288pp.
Publication Date: October 4, 2002
Other Editions of This Title:
Hardcover (10/1/2001)
Paperback (3/1/2011)
Paperback (1/1/2012)
* Individual store prices may vary.
Description
In 1965, on a small island in the South Pacific, a group of astronomers gather to witness the passing of a comet, but when a young boy dies during a meteor shower, the lives of the scientists and their loved ones change in subtle yet profound ways. Denise struggles for respect in her professional life, married Eli becomes increasingly attracted to Denise and her quixotic mind, and young Lydia attempts to escape the scientists' long-casting shadows. Andrew Sean Greer's remarkable and sweeping first novel, The Path of Minor Planets, is an exploration of chances taken and lost, of love found and broken, and of time's subtle gravitational pull on the lives of everyday and extraordinary people.
About the Author
Andrew Sean Greer is the bestselling author of five works of fiction, including The Confessions of Max Tivoli, which was named a Best Book of the Year by both the San Francisco Chronicle and the Chicago Tribune. He is the recipient of the Northern California Book Award, the California Book Award, the New York Public Library Young Lions Award, the O Henry Award for Short Fiction, and fellowships from the National Endowment for the Arts and the New York Public Library. Greer lives in San Francisco.
Praise For The Path of Minor Planets: A Novel…
"Perfectly captures the sensation of coming unprepared upon something wonderful...Part of greer's triumph derives from the book's ingenious structure....Unforgettable...Greer has learned Woolf's best lessons well. One of the wisest, most compassionate novels about smart people's emotional lives to come around in years." —David Kipen, San Francisco Chronicle Book Review (front page)
"Greer pinpoints the 'tiny hidden madnesses in ordinary people' with unerring accuracy, and, in prose littered with sparks, makes palpable the longing for the celestial." —The New Yorker
"[Greer's] carefully crafted sentences can ring with ethereal beauty, and his metaphors are vivid and creative....Greer is a writer to watch; he has a literary style that's worth wrapping around his sensitive perspective on the world." —The Boston Globe

"Perhaps [no novelist] has blended the worlds of astronomy and romance so stunningly as Andrew Sean Greer.... Startlinglly clever phrasing and a careful sensitivity with a wide range of characters ... [with] remarkably wise insight into the nature of marriage and friendship." —The Christian Science Monitor
"Each of the book's five sections nearly stands alone as a novella, with beautifully observed details and refreshing economy....[With] seamless prose...the novel is both subtle and sublime, an impressive debut." —The Washington Post Book World
"Andrew Sean Greer is a master of small surprises. They wait for you in every chapter, every paragraph - nearly every sentence - of The Path of Minor Planets, and they never feel unearned or cloying....Stunning in both its skill and soul...It's almost as if Greer were channeling Woolf via Michael Cunningham....Awe-inspiring." —Rachel Howard, The San Francisco Examiner
"A carefully plotted, meticulously drawn story." —Chicago Tribune
"Greer successfully captures the spirits of both men and women here, and magages to hold a great deal together without slipping....A strong vision so consistently gorgeous." —Kirkus Reviews