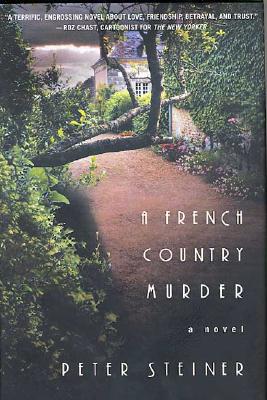 A French Country Murder (Hardcover)
Minotaur Books, 9780312306878, 256pp.
Publication Date: March 1, 2003
* Individual store prices may vary.
or
Not Currently Available for Direct Purchase
Description
When political intrigue drove Louis Morgon from a successful career at the State Department, he moved to a cottage in France, far from Washington and what he called "the sordid world." He took up painting. He grew vegetables and flowers. He ate long, lovely meals on the terrace overlooking fields of sunflowers. He thought that he had found happiness.

Then one day Louis's past lands squarely on his doorstep. It does so in the shape of a dead man. His throat has been slit. He wears a cap with liberte embroidered on it. Except for the local cop, Jean Renard, the police are strangely uninterested. This seems peculiar to Renard, but not to Louis. He knows who the murderer is. He also knows that he is likely to be the next victim. And there is very little he or Renard or anyone else can do. Each clue they find raises more questions than it answers. Nothing is as it appears.

Louis's best hope is to turn the tables on his murderer. Instead of knowledge, he has only his intuition and his intelligence. Instead of power or influence, he has only his own past. Louis finds himself on a lonely and dangerous journey of self-discovery. He thought he was beyond surprises. But every turn of the road reveals new mysteries, and the resolution is a shock.

A French Country Murder is a story of political intrigue, corruption and jealousy. It is also a story of love and friendship and, of course, France.
About the Author
Peter Steiner grew up in Cincinnati. After attending the University of Miami and the Free University of Berlin, he served in the Army in Germany. He got a Ph.D.in German Literature from the University of Pittsburgh and then taught at Dickinson College. He left teaching to pursue a career as a painter and cartoonist. His paintings have been shown in galleries in Washington and New York, and his cartoons appear regularly in "The New Yorker, The Weekly Standard, "and "The Washington Times."
Praise For A French Country Murder…
"A wonderful novel - keen-eyed, circumspect, patient and wise. In crafting his alluring debut, Mr. Steiner shows us how those who lust for power can never be satisfied and that a small village in rural France isn't all that far from Washington, D.C. when a killer comes to call. "A French Country Murder" est superbe - as a study of a man whose choices haunt him and as a quietly thrilling mystery."
- Jim Fusilli, author of Closing Time and A Well-Known Secret

"A French Country Murder is a rare phenomenon, a beautiful crime novel. When I realized what it was, I began to read more slowly to make it last."
- Thomas Perry, Edgar-award-winning author of The Butcher's Boy

"Le Carre and Deighton fans will welcome New Yorker cartoonist Steiner's engaging . . . first novel"
- Publishers Weekly

"Early reviewers have likened Steiner's debut to John le Carre and Len Deighton, but to me the writer he resembles most is Nicolas Freeling, who in recent years has written mysteries . . . about older men in peril because of their past. Morgon is a fascinating character, recognizable in all his vanity and paranoia. And Steiner, who lives part of the year in France, sketches such a rich life for his tiny town that he makes you want to forgive Jacques Chirac all his sins and get on the next plane."
- Chicago Tribune

"Steiner's studied understatement--the unmysterious tale unfolds largely in retrospective summary--renders the stuff of international intrigue into a coolly telegraphic portrait of betrayal."
- Kirkus Reviews

"A French Country Murder is a complex, enigmatic mystery whose appeal lies chiefly in debut novelist Peter Steiner's compelling narrative and delightful descriptions of the people and places he encounters in France."
- Nashville Tennessean

"A beautifully rendered portrait of a peaceful retirement doomed by the past."
- Contra Costa Times

"A captivating murder mystery . . . . for anyone who enjoys good writing. Let's hope Peter Steiner puts his drawing pens down long enough to writer more."
- Tampa Tribune & Times

"Simple and straightfoward, in stunning contrast to the plot."
- St. Louis Post-Dispatch

"Intriguing"
- Harriet Klausner

"Inviting"
- Library Journal
Advertisement