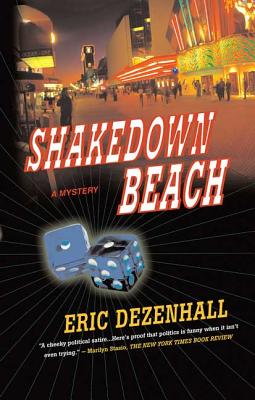 Shakedown Beach (Paperback)
A Mystery
St. Martins Press-3pl, 9780312307738, 352pp.
Publication Date: June 1, 2005
Description
The Governor: Gardner "Rebound" Rothman---married, family values New Jersey Republican with White House fantasies, a terrible secret, and a controversial position on young interns: he's for 'em
The Tart: Simone Lava, the voluptuous Miss Little Egg Harbor Township. Rebound keeps her hidden away in Atlantic City's seedy Celebrity Motel where she practices waving like a First Lady---a title she's been promised, if she'll just lay low during election season.
The Fixer: Chief Willie Thundercloud, former pro wrestler who runs the Jersey Shore's most ruthless damage control firm. The chief digs up the macabre truth about the governor.
The Pollster: Jonah Eastman, maverick political strategist raised by his mobster grandfather, who gave Rebound his start. Jonah knows only one thing can save the congenitally deceitful governor: a whopping, heartfelt lie.
Shakedown Beach rips open the slats of the Atlantic City boardwalk to impart the big lesson of American politics: when forced to look into one's soul and confront the painful truths of murder, corruption, and sexual depravity, don't be an idiot---hire the nastiest operatives money can buy and duck, dodge, and spin to November.
About the Author
Eric Dezenhall is the president of Dezenhall Resources, one of the nation's leading crisis management firms, and is the author of three novels, including Shakedown Beach, Money Wanders, and Jackie Disaster, which was optioned for television. Eric is also the author of the nonfiction study, Nail 'Em! Confronting High-Profile Attacks on Celebrities and Businesses. He lives in Bethesda, Maryland.
Advertisement