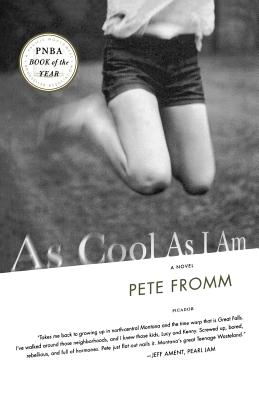 As Cool As I Am (Paperback)
A Novel
Picador, 9780312307769, 416pp.
Publication Date: November 1, 2004
Other Editions of This Title:
Paperback (6/18/2013)
Hardcover (10/1/2003)
* Individual store prices may vary.
Description
As a teenager pretty much left to raise herself, Lucy Diamond is a narrator with a radiant yet guarded heart. As she races at breakneck pace toward womanhood, everything is at stake for her, producing an urgency and dread that she holds at bay with humor and grace. But while Lucy charges ahead, her mother's youth is fading. Simultaneously embracing and resisting their similarities, Fromm reveals both women's emotional vulnerabilities and their deep mutual need. Conveyed through dialogue that is both laugh-aloud-funny and true, Lucy stands out in contemporary literature for her large heart and inimitable grit.
About the Author
PETE FROMM is a five time winner of the Pacific Northwest Booksellers Award for his novels If Not For This, As Cool as I Am, and How All This Started, his story collection Dry Rain, and the memoir Indian Creek Chronicles. The film of As Cool as I Am was released in 2013. He is also the author of several other story collections and has published over two hundred stories in magazines. He is on the faculty of Oregon's Pacific University's Low-Residency MFA Program and lives in Montana. His second memoir The Names of the Stars: A Life in the Wilds was named an Honor Book in the 2016 Montana Book Awards.
Praise For As Cool As I Am: A Novel…
"This novel packs an emotional punch that sneaks up from behind...Fromm creates an engrossing coming-of-age saga that cuts to the essence and shines." —Seattle Times
"One of the more startling beautiful and evocative tales of young womanhood...Fromm's voice-on loan to Lucy-is provocative, gritty, erotic, hilarious and genuine, and this book is a fresh breath of teen spirit." —Ron Franscell, San Francisco Chronicle
"Deceptively simple and so artfully constructed it takes you someplace far deeper than you expected....Lucy Diamond is the kind of woman Johnny Cash might have memorialized with his graveyard croon....A novel of great drive and soul." —Carlo Wolff, Milwaukee Journal Sentinel