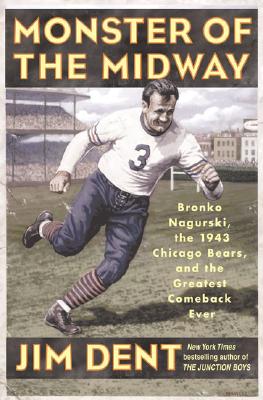 Monster of the Midway: Bronko Nagurski, the 1943 Chicago Bears, and the Greatest Comeback Ever (Hardcover)
Bronko Nagurski, the 1943 Chicago Bears, and the Greatest Comeback Ever
Thomas Dunne Books, 9780312308674, 320pp.
Publication Date: October 1, 2003
* Individual store prices may vary.
or
Not Currently Available for Direct Purchase
Description
Jim Dent's Monster of the Midway is the story of football's fiercest competitor, the legendary Bronko Nagurski. From his discovery in the middle of a Minnesota field to his 1943 comeback season at Wrigley, from the University of Minnesota to the Hall of Fame, Bronko Nagurksi's life is a story of grit, hard work, passion, and, above all, an unstoppable drive to win.

Monster of the Midway recounts Nagurski's unparalleled triumphs during the 1930s and '40s, when the Chicago Bears were the kings of professional football. From 1930, the Bronk's first year, through 1943, his last, the Bears won five NFL titles and played in four other NFL Championship Games. Focusing on Nagurski's 1943 comeback season, and how he miraculously led the Bears to their fourth NFL championship against the backdrop of World War II era Chicago, Jim Dent uncovers the riveting drama of Nagurski's playing days. His efforts were the stuff of legend, and his success in 1943 accomplished in spite of a battered frame, worn-out knees, multiple cracked ribs, and a broken bone in his lower back.

While chronicling the drama of the '43 championship chase, Dent also tells of both the Bears' colorful early years and Bronko's improbable rise to fame from the backwoods of northern Minnesota. Woven into the narrative are the sights and smells and sounds of one of the most romantic, flavorful eras of the twentieth century. And laced through it all are stories of legend: Bronko rubbing shoulders with colorful characters like George Halas, Red Grange, Sid Luckman, and Sammy Baugh; Bronko running into (and breaking) the brick wall at Wrigley Field; Bronko winning All-American spots for two positions; Bronko knocking scores of opponents unconscious; and Bronko reaching the heights of football glory and, with rare grace, turning his back on the game after winning his last championship.

Rich in unforgettable stories and scenes, this is Jim Dent's account of Bronko Nagurski-arguably the greatest football player who ever lived-and his teammates, the roughest, toughest, rowdiest group of players ever to don leather helmets, and the original Monsters of the Midway.
About the Author
Jim Dent is the author of the "New York Times "bestseller "The Junction Boys," which became an acclaimed ESPN original movie. He has written three other books: "The Undefeated," "King of the Cowboys," and "You're Out and You're Ugly, Too" (with Durwood Merrill). Dent is an award-winning journalist who covered the Dallas Cowboys for eleven years and worked in the sports media for more than two decades. He is a graduate of Southern Methodist University.
Praise For Monster of the Midway: Bronko Nagurski, the 1943 Chicago Bears, and the Greatest Comeback Ever…
"Fills in the details behind a fascinating chapter in early pro football history."--Booklist
Advertisement