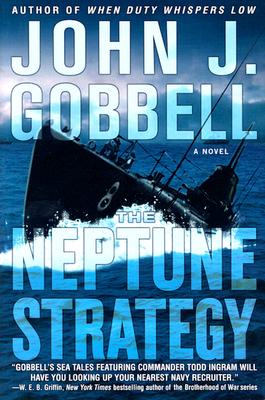 The Neptune Strategy (Hardcover)
St. Martin's Paperbacks, 9780312311704, 480pp.
Publication Date: November 29, 2005
* Individual store prices may vary.
Description
Former naval officer John J. Gobbell brings to life marine warfare as few others ever have. Now, the author of When Duty Whispers Low, A Code For Tomorrow, and The Last Lieutenant, returns to the fiery panorama of World War II, as Commander Todd Ingram is caught in a living hell.

In 1944, the Allies have delivered a stunning blow to Hitler's Western front. In the Pacific, Admiral Raymond A. Spruance's Fifth fleet is poised to eviscerate the Japanese Navy--and begin a new war for the occupied islands. But in the center of this world-spanning drama, a lone Japanese submarine is on a mission of a very different kind. And on board is Todd Ingram, a prisoner of war and captive of fate.

Navy brass knows Ingram is on the sub, but can't reveal its ability to break Japanese code. So Ingram's friend, Captain Jerry Landa, is put in charge of a covert "Neptune Strategy" to save Ingram. But Landa can't help himself as he falls for Ingram's wife Helen while the top brass demands to know where the Japanese sub is going, who is in command--and what its astounding ultimate mission really is...
About the Author
After graduating from the University of Southern California, John J. Gobbell was a U.S. Navy deck officer assigned to Pacific fleet destroyers. Rising to the rank of lieutenant, he participated in the early days of the Vietnam conflict, serving in such positions as antisubmarine warfare officer, fire control officer, and weapons officer. In civilian life, his career has been in the executive recruiting field, where he is retained by corporate clients to find senior managers. In the 1970s and 1980s he conducted assignments for prime contractors serving the military, interviewing hundreds of executive responsible for multimillion-dollar tactical and strategic defense systems. These assignments piqued his interest in character development for technically aligned executives. That, coupled with a keen interest in the events of World War II, led to the development of his first four novels, all vigorously researched.
Praise For The Neptune Strategy…
"An undeniably seaworthy tale for military-action buffs...fortunately, Ingram has much of WWII yet to serve."--Booklist

"A test of wills as well as of physical strength and endurance…robust, colorful prose…the story covers an impressive territory…a solid addition to Gobbell's developing war chronicles, as much historical fiction as military adventure."--Publishers Weekly
or
Not Currently Available for Direct Purchase