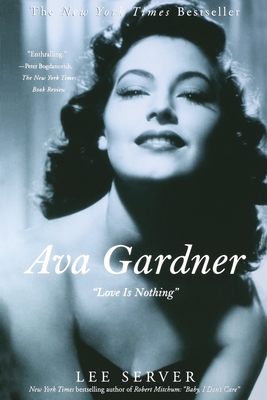 Ava Gardner (Paperback)
"Love Is Nothing"
St. Martin's Griffin, 9780312312107, 560pp.
Publication Date: May 15, 2007
Other Editions of This Title:
Hardcover (4/18/2006)
* Individual store prices may vary.
Description
"The most complete and engrossing biography yet of this exotic Southern girl...Excellent."—Liz Smith
She was the sex symbol who dazzled all the other sex symbols. She was the temptress who drove Frank Sinatra to the brink of suicide and haunted him to the end of his life. Ernest Hemingway saved one of her kidney stones as a sacred memento, and Howard Hughes begged her to marry him—but she knocked out his front teeth instead.
She was one of the great icons in Hollywood history—star of The Killers, The Barefoot Contessa, and The Night of the Iguana—and one of the few whose actual life was grander and more colorful than any movie. Her jaw-dropping beauty, charismatic presence, and fabulous, scandalous adventures fueled the legend of Ava Gardner—Hollywood's most glamorous, restless and uninhibited star.
"A seductive book."—The New York Times
"Deliciously entertaining."—Publishers Weekly
"Irresistible and finally heartbreaking."—The Newark Star-Ledger
"Super."—USA Today
In this acclaimed first full biography of Gardner, Lee Server recreates—with great style and vivid detail—the actress's life, from her beginnings as a barefoot North Carolina farm girl to her heady days as a Hollywood goddess. He paints the full spectacle of her tumultuous private life—including her string of failed marriages to Mickey Rooney, Sinatra and Artie Shaw—and Gardner's lifelong search for adventure and love.
Ava Gardner: "Love is Nothing" is both an exceptional work of biography and a richly entertaining read.
About the Author
LEE SERVER is the author of the best-selling and critically acclaimed biographies Robert Mitchum: Baby, I Don't Care and Ava Gardner: Love is Nothing. Robert Mitchum was named a Best Book of the Year by the Los Angeles Times, "the film biography of the year" by the Sunday Times (U.K.) and one of the "60 Greatest Film Books." Ava Gardner was a New York Times Notable Book, and a New York Times, Los Angeles Times and USA Today bestseller. He lives in Palm Springs, California.
Praise For Ava Gardner: "Love Is Nothing"…
"A life of much too much, all of it thoroughly and satisfyingly recounted." —New York Daily News
"Server writes with a contagious enthusiasm." —Kirkus Reviews
"Entertaining." —Library Journal
"Enthralling...an extended toast to [Gardner]." —Peter Bogdanovich, The New York Times
"A seductivtive book." —The New York Times
"Every bit as thrilling as Server's previous biography of Robert Mitchum." —The Times (UK)
"Server, who perfectly captured Robert Mitchum's laconic laissez-faire in Robert Mitchum: 'Baby, I Don't Care', follows with another captivating chronicle." —Filmmonthly
"Deliciously entertaining." —Publishers Weekly
"The most complete and engrossing biography yet of this exotic Southern girl...An excellent book, full of juicy new detail." —Liz Smith, New York Post
"Exceptionally well written, a huge step above most star biographies." —Toronto Globe and Mail
"Writing with poetic grace and titillating candor, he traces Gardner's path from Tobacco Road to Tinseltown." —American Way
"A compelling triumph of a biography." —Filmmonthly
"As close as we will ever get to an evening out with the woman herself." —The  Sunday Times (UK)
"No writer had ever managed to capture [Ava Gardner's] life of volcanic excess until now." —Noir City Sentinel
"A wholly worthwhile biography to sink your teeth into." —Buffalo News