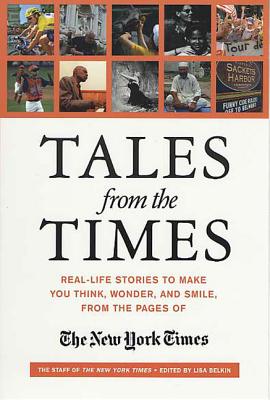 Tales from the Times (Paperback)
Real-Life Stories to Make You Think, Wonder, and Smile, from the Pages of The New York Times
St. Martin's Griffin, 9780312312336, 288pp.
Publication Date: April 1, 2004
* Individual store prices may vary.
Description
A food editor befriends a chicken in his Queens backyard. A ten-year-old child prodigy learns quantum physics. A thief in Rome steals 1,000 euros-from the bottom of an outdoor fountain. These are the stories that make us smile, wonder, and think. They are real-life stories about real-life people, all of which have appeared on the pages of The New York Times.
A perfect primer on humanity, Tales from the Times will introduce new readers to people and places that captivate the mind. There are certain human- interest stories that people just can't stop talking about-twins separated at birth or a five-year-old taking his mother's car for a joyride. Now, in this wonderfully eclectic compilation of articles, readers will find many of the most talked about stories from The New York Times.
About the Author
The New York Times
is a daily newspaper published in New York City and distributed internationally. Founded in 1851, the newspaper has won 112 Pulitzer Prizes, more than any other news organization. Its website receives 30 million unique visitors per month.
Editor Lisa Belkin is a reporter for The New York Times and author of that newspaper's "Life's Work" column. She is the author of Life's Work: Confessions of an Unbalanced Mom, First, Do No Harm, and Show Me a Hero. Belkin lives with her family in Westchester County, New York.