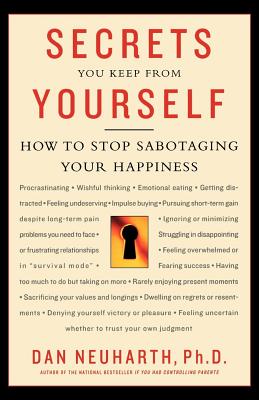 Secrets You Keep from Yourself (Paperback)
How to Stop Sabotaging Your Happiness
St. Martin's Griffin, 9780312312480, 304pp.
Publication Date: March 1, 2005
* Individual store prices may vary.
Description
This insightful guide is an exploration of how and why people undermine their happiness and lose touch with their "best" selves. Counterproductive self-deception, a universal behavior, is a habit that can be broken. People keep themselves from having what they want, a phenomenon known as "self-handicapping."
Offering poignant examples, innovative tools, and a compassionate perspective, Dan Neuharth reveals how to vanquish self-imposed roadblocks and avoid unnecessary losses in order to embrace and share the best in oneself.
About the Author
Dan Neuharth, Ph.D., is the author of the national bestseller If You Had Controlling Parents: How to Make Peace with Your Past and Take Your Place in the World. He has appeared on national broadcast media, including Oprah, Good Morning America, and CNN's Talkback Live. He is a licensed marriage and family therapist in the San Francisco Bay area.
Praise For Secrets You Keep from Yourself: How to Stop Sabotaging Your Happiness…
"Demystifies much within our pasts that can hurt our intimate relationships in ways we may not even realize. If You Had Controlling Parents helps spark understanding and acceptance across generations." —John Gray, Ph.D., author of Men Are From Mars, Women Are From Venus on If You Had Controlling Parents
"A step-by-step plan in which [the reader] can deprogram himself from the ingrained and harmful habits taught by unhealthy guardians...and change habitual feelings of low self-esteem, distrust, or even a willingness to be victimized." —Los Angeles Times on If You Had Controlling Parents
"Excels in describing threads common to many extreme parenting styles...and to the way children subjected to them feel once they've grown up." —Dallas Morning News on If You Had Controlling Parents
"If You Had Controlling Parents can claim a very respectable spot on the shelf of self-help books. The book is solid." —USA Today on If You Had Controlling Parents