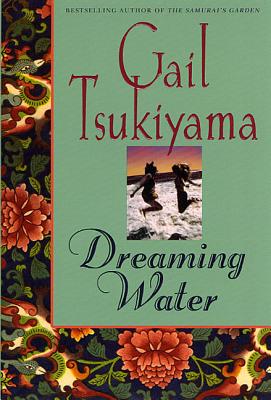 Dreaming Water
A Novel
Paperback

* Individual store prices may vary.
Other Editions of This Title:
Hardcover (4/1/2002)
Description
Bestselling author Gail Tsukiyama is known for her poignant, subtle insights into the most complicated of relationships. Dreaming Water is an exploration of two of the richest and most layered human connections that exist: mother and daughter and lifelong friends.

Hana is suffering from Werner's syndrome, a disease that makes a person age at twice the rate of a healthy individual: at thirty-eight Hana has the appearance of an eighty-year-old. Cate, her mother, is caring for her while struggling with her grief at losing her husband, Max, and with the knowledge that Hana's disease is getting worse by the day.

Hana and Cate's days are quiet and ordered. Cate escapes to her beloved garden and Hana reads and writes letters. Each find themselves drawn into their pasts, remembering the joyous and challenging events that have shaped them: spending the day at Max's favorite beach, overcoming their neighbors' prejudices that Max is Japanese-American and Cate is Italian-American, and coping with the heartbreak of discovering Hana's disease.

One of the great joys of Hana's life has been her relationship with her beautiful, successful best friend Laura. Laura has moved to New York from their hometown in California and has two daughters, Josephine and Camille. She has not been home in years and begs Hana to let her bring her daughters to meet her, feeling that Josephine, in particular, needs to have Hana in her life. Despite Hana's latest refusal, Laura decides to come anyway. When Laura's loud, energetic, and troubled world collides with Hana and Cate's daily routine, the story really begins.

Dreaming Water is about a mother's courage, a daughter's strength, and a friend's love. It is about the importance of human dignity and the importance of all the small moments that create a life worth living.
Praise For Dreaming Water: A Novel…
"A poignant portrait of mother-daughter love in the face of death, without the attendant melodrama easily wrung from such material." —Kirkus Reviews

"Beautifully written, effused with both sadness and hope, Tsukiyama's novel cannot fail to move readers." —Booklist starred review

"...Tsukiyama tells a simple story in a straightforward way...[in] a delicate, deceptively powerful new novel." —USA Today
St. Martin's Griffin, 9780312316082, 304pp.
Publication Date: May 1, 2003
About the Author
Born to a Chinese mother and a Japanese father in San Francisco, Gail Tsukiyama now lives in El Cerrito, California. Her novels include Dreaming Water, The Language of Threads, The Samurai's Garden, and Night of Many Dreams.