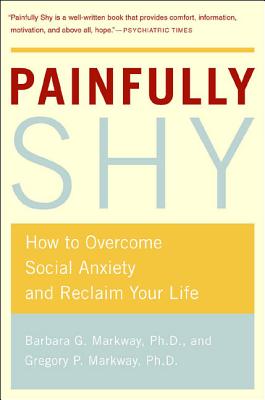 Painfully Shy (Paperback)
How to Overcome Social Anxiety and Reclaim Your Life
St. Martin's Griffin, 9780312316235, 288pp.
Publication Date: August 22, 2003
* Individual store prices may vary.
Description
Question:
* Do you feel shy and self-conscious in social situations?
* Are you plagued with self-doubts about how you come across to others?
* Do you feel physically sick with worry about certain situations that involve interacting with others?
* Do you make excuses, or even lie to avoid the social situations you dread?
* Do you make important decisions based on whether you'll have to participate in groups or speak in front of others?
If you answered yes to any of these questions, you're not alone. Millions of people experience social anxiety of painful shyness to such a degree that it disrupts their daily lives. In fact, as many as one out of every eight Americans will at some point suffer from what's called social anxiety disorder, or social phobia.
Social anxiety disorder is a real problem. But fortunately, it's also one that can be overcome.
Drs. Barbara and Greg Markway, psychologists and experts in the field, coach you every step of the way in this warm, easy-to-read, and inspiring book. You'll learn how social anxiety disorder develops, how it affects all aspects of your life, and most importantly, how to chart your course to recovery.
About the Author
Barbara Markway
is a psychologist and co-author of
Painfully Shy
and
Dying of Embarrassment
. A nationally-recognized expert, she has appeared on Good Morning America and has been featured in
The New York Times, Prevention, Women's World, Shape
, and other prominent national publications. Together with her husband, Greg, she was a part of an award-winning documentary, Afraid of People, which aired throughout the country. Dr. Markway practices in Jefferson City, Missouri where she is the director of The Anxiety & Stress Management Center of Mid-Missouri.
Gregory P. Markway, Ph.D., co-wrote Painfully Shy with his wife, Barbara. He has been featured in national magazines such as Health, Men's Health, and Bottom Line Personal. Dr. Markway, also a psychologist, practices in Jefferson City and was previously an adjunct faculty member at the Washington University School of Medicine. When he's not helping others overcome their anxiety, he enjoys coaching youth baseball and offering sports enhancement services.
Praise For Painfully Shy: How to Overcome Social Anxiety and Reclaim Your Life…
"Reading this book is like having live therapy sessions with an expert on social phobia...Painfully Shy goes beyond showing us how to confront and deal effectively with our social phobia. It also gives us the tools to accept ourselves in the process." —Eric Joffe, Alliance for People with Social Phobia
"This is a highly readable book about the varied forms of social anxiety and its treatment...packed with practical tools to help readers overcome their fears." —Jerilyn Ross, M.A., L.I.C.S.W., author of Triumph Over Fear