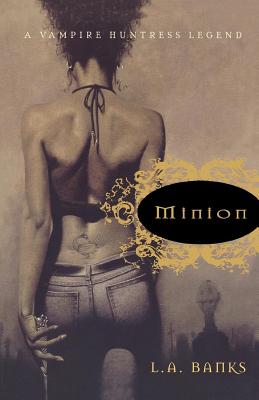 Minion
A Vampire Huntress Legend (Vampire Huntress Legends #1)
Paperback

* Individual store prices may vary.
Other Editions of This Title:
Digital Audiobook (9/30/2009)
Description
There is one woman who is all that stands between us and the eternal night. Here is an account of her legend....

All Damali Richards ever wanted to do was create music and bring it to the people. Now she is a Spoken Word artist and the top act for Warriors of Light Records. But come nightfall, she hunts vampires and demons—predators that people tend to dismiss as myth or fantasy.

But Damali and her Guardian team cannot afford such delusions, especially now, when a group of rogue vampires have been killing the artists of Warriors of Light and their rival, Blood Music. Strange attacks have also erupted within the club drug-trafficking network and drawn the attention of the police. These killings are a bit out of the ordinary, even for vampires. No neat puncture marks in the neck to show where the life's blood has been sucked from the body; these bodies have been mutilated beyond recognition, indicating a blood lust and thirst for destruction that surpasses any Damali has encountered before.

Damali soon discovers that behind these brutal murders is the most powerful vampire she has ever met, and this seductive beast is coming for her next. But his unholy intentions have also drawn the focus of other hellish dark forces. Soon Damali finds herself being pulled deeper into the vast and horrifying vampire world.
Praise For Minion: A Vampire Huntress Legend (Vampire Huntress Legends #1)…
"[Minion] literally rocks the reader into the action-packed underworld power struggle between vampire rivals with a little demon juice thrown in... Cutting-edge wit and plenty of urban heat flies from the pages of this quick read." —Philadelphia Sun

"[Banks is]. . .wildly creative and invents a totally new and refreshing milieu... Its social hierarchy and politics are fascinating, and the author's reinterpretation of the seven levels of hell is brilliant. Minion is an entirely delicious read, leaving the reader licking one's lips and wanting more, cursing the cliffhanger ending." —Fangoria Magazine
St. Martin's Griffin, 9780312316808, 304pp.
Publication Date: June 4, 2003
About the Author
L. A. BANKS was the author of the Vampire Huntress Legend series and the Crimson Moon Novels, including Left for Undead and Never Cry Werewolf. She had a bachelor's degree from the University of Pennsylvania's Wharton School of Business and a master's in fine arts from Temple University. Banks considered herself a shape-shifter, writing romance, women's fiction, crime and suspense, and of course, dark vampire huntress lore. She lived with her daughter in Philadelphia until her death in 2011.